Teardrop Trailer Camping is the perfect combination of comfort, ease and simplicity. You can enjoy the great outdoors while at the same time sleeping in a nice warm and comfortable bed, often with heat and air conditioning! A teardrop camper kitchen can have almost all of the amenities of home or can be as simple as a propane stove, cooler and jug of water. Teardrop Camper Camping can be as rustic or comfortable as you like – you get to choose.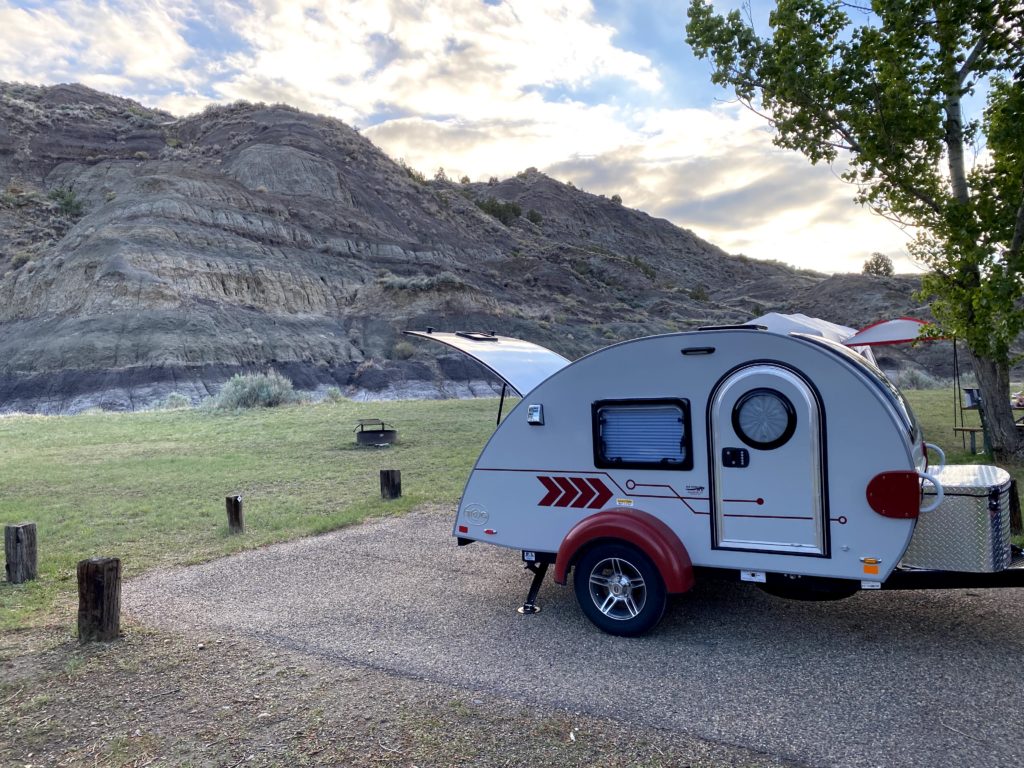 Disclaimer: All information is from my experience and opinion – please check with your camper manufacturer for best practices and detailed information. As an Amazon affiliate I make a small commission from qualifying purchases.
Teardrop Trailer Camping – The Ultimate guide
Hooking up Your Teardrop Camper
It is a good idea to make a checklist and keep it handy when hooking up your teardrop camper so that you don't miss any steps. Here are the basic steps, each camper is different so you may need to add some steps to this list:
Install correct size ball and hitch to tow vehicle – use locking pin to secure to hitch receiver
Use trailer jack to raise coupler above height of hitch and back up tow vehicle so that hitch is under the coupler.
Lower the coupler so that it sits on top of the ball – secure the coupler over the ball and lock with a locking pin. Crank the trailer up a bit to make sure it is safely secured to the ball.
Cross Safety chains and attach to hitch receiver. You cross the chains so they create a "basket" to catch the trailer if it somehow disengages from the hitch.
Attach breakaway cable to hitch receiver. Make sure the breakaway connection is not loose and cable is not constricted. This cable will turn on the trailer breaks if pulled away from camper.
Crank up the jack so that the wheel or foot is well off the ground. Remove wheel and store where handy so that you can replace it when you get to your destination. Some people use the pin from the wheel to lock the coupler.
Plug in 7 pin connector to tow vehicle. If you are using a bluetooth break controller like the Curt Break Controller, you will plug that in first, and then plug the 7 pin into that.
Remove wheel chocks and makes sure stabilizer feet are cranked up. Put crank and chocks in a safe place in tow vehicle or camper so you won't forget them.
Turn on lights in tow vehicle and make sure trailer lights are on. It is safer to tow with your lights on even during the day. Test turn signals and break lights to make sure they are all working.
Open all blinds and screens in camper. Make sure all windows are locked and fan cover is locked. Secure any loose items. It is safer to have more weight toward the front of the camper or in front of the axle than the back when towing so keep this in mind when packing.
Make sure propane is turned off at tank and door secure
Test all doors to make sure they are secure. I had a door open up when driving and this is scary! I now lock the bolt first and make sure that is secure, and then lock the handle. Double check!
Walk around trailer and make sure everything looks secure before towing.
It's not a bad idea to stop after a short distance to double check that everything looks secure on your trailer and hitch. If you ever feel overwhelmed or tired, take a break. Check out this episode of the Girl Camper Podcast for great towing tips.
Click here for advice on How to Back Up your Teardrop Trailer
Setting Up Camp with your Teardrop Camper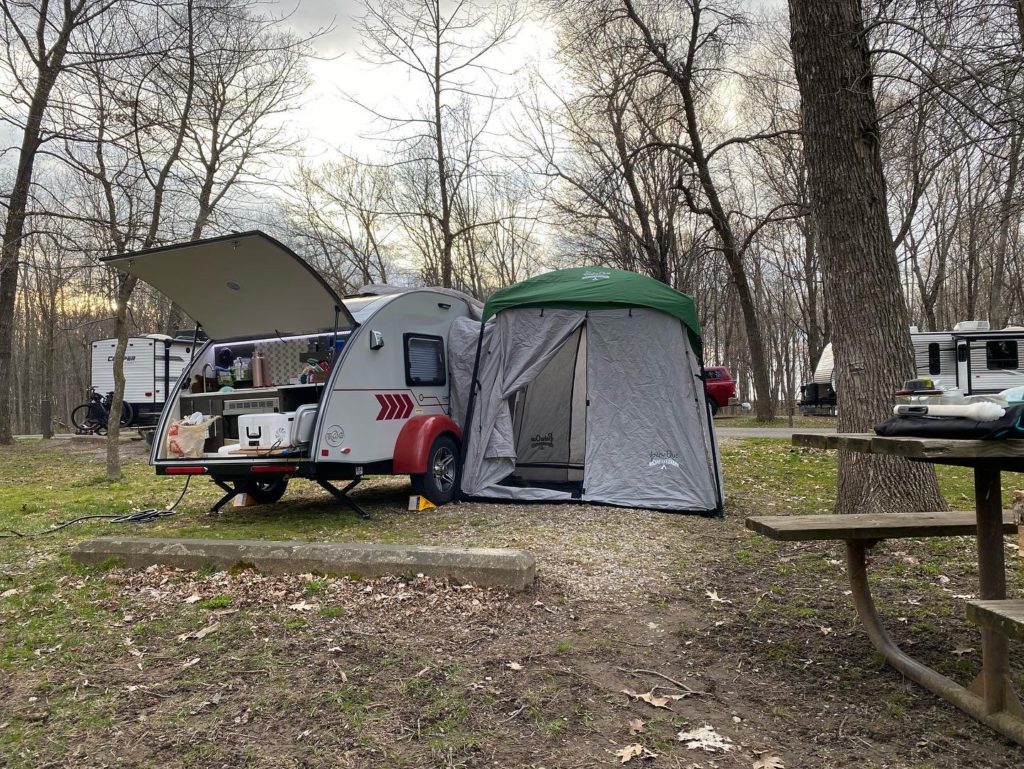 You've made it to camp, you've back in your trailer (yay!) and now you are ready to unhook and set up! Here are the steps to setting up camp with your teardrop camper:
Check to see if the camper is level. I typically don't need it to be perfectly level, but if you are on a slope from side to side you may need leveling blocks. I like to add these while I am still hooked up to the tow vehicle. Also make sure you are close enough to hook-ups to reach them.
Place wheel chocks in front of or behind trailer – or both.
Install the wheel or foot back onto the jack and lower to ground
Unplug 7 pin connector (I always unplug this even if I am not unhitching from tow vehicle in case it could draw down the vehicle battery.)
Unhitch safety chains and breakaway cable
Release coupler from ball
Crank up trailer until it is above the ball and move tow vehicle away from camper
Use trailer jack to level front to back
Lower stabilizer jacks (these are typically just used to stabilize and not level your camper, check with your manufacturer). Put crank in safe place!
Hook up to electric – make sure power is turned off at power pole, hook up your power cord to camper, add surge protector to power pole (see power system essentials section below) and plug into power pole. Turn on power at pole and make sure convertor turns on in camper.
Hook up to water if available – See water system essentials section below.
Set up 12v refrigerator or cooler in galley, or hook up refrigerator to battery or generator in tow vehicle if in bear country.
Turn on propane – slowly to prevent bubbles
Set up side tent or screen house and bathroom tent. (See section below)
Set up any rugs, chairs, outside lighting, etc.
Add your wheel locks and hitch locks to camper for security. See our teardrop essentials at the end of this article for security options.
Open your fan cover and turn on fan, a/c or heater depending on weather.
Make up your bed
Light up the Thermocell if in mosquito territory (check out our guide to keeping mosquitoes out of your teardrop camper).
TEARDROP CAMPER WATER SYSTEM ESSENTIALS
If your teardrop has a water tank and sink – here are some items you will need to either hook up to the water at a campsite, or fill the tank if you don't have hookups.
Water Tank Filler – this can be used to fill your tank from the hose. Make sure to only use this to fill your tank so you don't contaminate your tank. A jerry can with a funnel also comes in handy if you are not close to a spigot.
Water Pressure Regulator – this will protect your rv water lines by regulating the pressure of the water from the water hookups at the campground.
Drinking Water Hose and Water Filter – although I rarely hook up to campground water – I do keep a hose and filter in my trailer just in case.
Collapsible Wash Basin. A wash basin comes in hand for doing dishes, washing up, or carrying water in an emergency!
Outdoor RX Biodegradable, Concentrated, Fragrance Free Camp Soap is safe for the environment and can be used for washing dishes or yourself!
TEARDROP CAMPER POWER system essentials
Your camper will typically come with a power cord, my T@G teardrop camper uses 30 amp. Typically in a teardrop camper the battery will run the lights, fan, radio and USB outlets. If you want to run the 110 outlets, heater, air conditioner, microwave or other non-USB appliances, you will need to plug into "Shore Power" or the campground electric power pole.
When you are at a campsite with electrical hookups you will have access to the 30 amp receptacle at the power pole. Most of us don't have this at home. You can use the adaptor so you can plug in your camper at home to use the outlets, charge the battery and more. Make sure you also carry an extension cord. 30 amp to 15 amp adaptor
Portable RV Surge Protector Portable EMS-PT30X – A surge protector is very important to protect your electrical system from bad hookups at a campground to protect against power surges and test the power at the pedestal for reverse polarity, open ground, etc from the campground electric hookup. I had the dealer hardwire an EMS Surge Protector into my T@G, if you don't have one hardwired, you can purchase a portable unit like this one.
If you do not have an electrical power hookup at your campsite, there are several options for power and charging your battery. If you have a 7 pin connected, just driving will charge your camper battery. Some teardrop campers come with a solar panel installed, or have the option to hook up a solar panel to the camper battery. I am lucky to have a solar panel built into my camper which works quite well, however I still carry a Goal Zero Yeti Solar Power Station to charge my phone and run my USB fan to conserve my camper battery. I charge the Goal Zero with a solar panel during the day, or plug into my vehicle when driving to charge it.
If you do not have electrical hookups but want to run your air conditioner and microwave in your teardrop camper, you will need a gas powered generator. Make sure you know the campground rules about running a generator, most campgrounds will have quiet hours when generators are not allowed.
Sleeping in your Teardrop Camper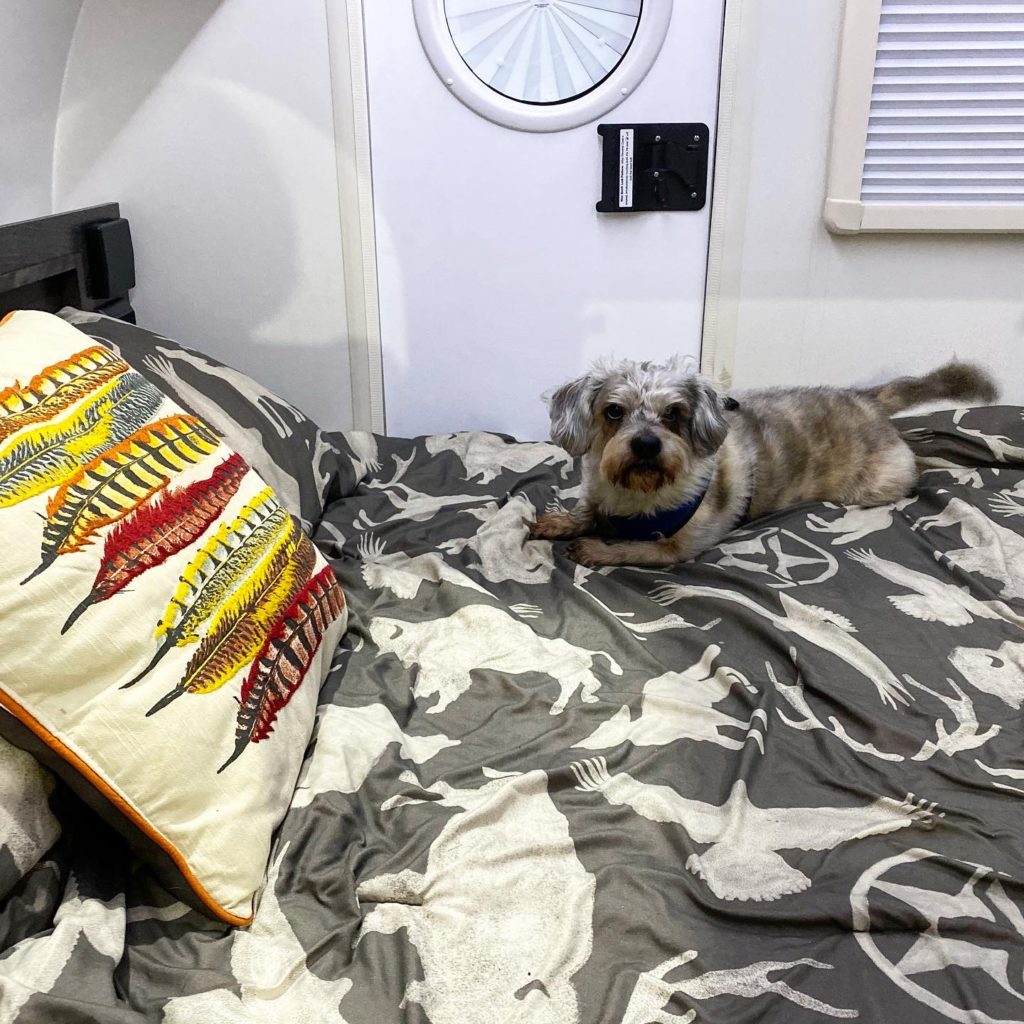 Sleeping comfortably off of the ground is a major benefit of a teardrop camper. It is a good practice to keep a window or the over head fan slightly open to help prevent condensation while sleeping. In my T@G 5-wide teardrop, there are two mattresses, which gives me the option of using both to make a full size bed, or stacking the mattresses to have a small single, and then having floor space to put a small table and even a very short chair! The bedding options are endless in a teardrop and some people opt to add a mattress topper – although I sleep just great without one!
Check out this article about Staying warm in your Teardrop Camper
Storage inside the Teardrop
Watch this video for some Teardrop Camper Storage Tips and Tricks! Click here for the full list of gear!
Teardrop Camper Emergency and Safety Considerations
I have always felt quite safe in the campgrounds I have stayed in, but you should still take precautions to stay safe. Here are some tips for Emergency Situations and Safety in your Teardrop Camper
Personal Safety- I always carry bear spray in my camper, this can be used against bears obviously, but also against intruders. It's best NOT to spray this in your small camper. You can also opt for pepper spray, or you may choose to carry, just make sure you know the laws in the state you are travelling in. I also suggest sleeping with your car keys next to you so you can trip your car alarm from inside the camper to draw attention and hopefully scare off any intruder.
Bear and animal safety. If you are camping in bear country, make sure that you do not keep any food or water inside your camper – it is better to stow it in your tow vehicle. Keeping a clean campsite and keep your galley door closed when not in use will also help to keep raccoons and other nuisance pests away.
Lighting – a headlamp is an often overlooked piece of gear that comes in so handy at night! If you have to walk the dog or make a trip to the bath house, a head lamp will light the way and keep your hands free. Having ample lighting around the campsite is also a good idea. I like to carry rechargeable or solar lights when camping.
Cell Phone Charger – I keep a cell phone charger in my camper and one in my tow vehicle at all times – no chance then to forget to bring one.
Weather Radio – A NOAA Weather Radio that will warn you of upcoming storms is an important piece of camping safety gear. Your cell phone may also provide updates, but is no use if you don't have cell service. This model can be charged by USB, Solar and Hand Crank.
Foul Weather Gear – I always carry a rain jacket and pants, a packable down jacket, and winter hat and gloves in my teardrop camper just in case.
First Aid Kit – I carry a first aid kit in both my camper and tow vehicle.
Spare Tire – You never know when you will get a flat tire when towing, so make sure your camper spare tire is inflated and in good condition. I keep my safety gear and tool kit on the passenger side under bed storage so that it is easy to access if I have to pull over on the side of the road. I also carry a portable tire compressor in my tow vehicle which also can jump the battery and charge my phone if necessary.
Check out this article on tips to help you stay safe on a road trip!
Smoke alarm, CO Alarm, Fire Extinguisher – These are must have's in your camper. I have a fire extinguisher in my camper and will add one to my galley.
GPS Locator – if you get lost or do not have cell service, a Garmin In Reach Mini satellite communicator that allows limited messaging and navigation, and can pair with your smartphone for additional navigation features.
Teardrop Camper Bathroom Options
Most small teardrop campers do not have a bathroom. Most of the time, I camp in State Parks or National Parks where there is a bath house, and I try to find a site not far from the bath house so I feel safe walking there at night. If you camp where there are no amenities, then a shower tent is a great option for bathroom and shower use or even just for getting dressed. Read this article about setting up a portable bathroom for camping.
King Camp Oversize Camping Shower Tent This is a great portable tent. Make sure the campground allows shower tents, many do not if there is a bath house at the camp ground.
Its nice to have a portable toilet option to keep in your camper or side tent in case of emergencies. This one is nice because it folds up very small when not in use, and the bags are easy to dispose of.
Taking a shower is another luxury when teardrop camping. Some teardrops have an outside shower on the side, this is nice to rinse off your feet or the dogs muddy paws, but if you don't have a water heater the water is cold! If there is no bath house, a small solar shower is an easy way to take a warm shower or just wash your hair. You just fill with water, and leave out in the sun until the water heats up.
Side Tents and Screenhouses
The Pahaque 5×7 side tent is my go-to tent for my T@G Camper. It works for getting dressed and having your coffee in the morning bug-free. The small size makes it easy to set up and attach to your camper. Read more in our article about the 5 best Tents for Teardrop Trailers.
The Clam Quick Set Traveler is a small and easy to use pop up screen house perfect for solo camping or a couple. This is a high quality screen house and withstands the weather well and perfect for teardrop trailer camping. Click here for more information and set up video.
Teardrop Kitchen and Cooking
Many teardrop campers have a full kitchen galley with stove, sink, refrigerator and even a microwave! If your teardrop does not come with these amenities, all you really need is a wash basin, camp stove and a cooler or 12v refrigerator. I use an ICECO Go12 refrigerator which fits perfectly in the spot where the cooler fit in my galley.
Even though my camper has a stove, I carry a small butane stove for cooking bacon and hamburgers, and anything else that is greasy. I can cook on my little table or on the picnic table.
Check out these articles on Teardrop Camper Galley Basics, Teardrop Camper Kitchen Essentials and Best ways to make coffee in your teardrop camper!
Breaking Down Your Teardrop Camper Campsite
Inside the trailer close up the fan cover and lock all windows. Shades up
Secure all items in trailer so they don't move around
I put a sheet over the bed so I can store my side tent and other items in the camper when towing, this prevents any dirt from getting on the bed.
Takedown any tents or screen houses.
Stow away your rugs and chairs and any other outside items.
Remove cooler or refrigerator from galley and plug refrigerator into battery in tow vehicle.
Turn off power at pole and unhook power cable
Turn off water and unhook from camper
Turn off propane tank
Crank up stabilizer jacks and put crank in safe place
Hitch up to tow vehicle (see section above Hooking up and Towing your Teardrop Camper).
Storing your Teardrop Camper
Garage or Cover: The beauty of many small teardrop campers is that they can fit inside a standard garage. I keep mine in my garage when not in use, which protects it from the elements and helps prevent it from being stolen. If you can't keep it in a garage, there are many covers made to help protect the camper from the elements. Check with your camper manufacturer for recommended camper cover.
Pahaque makes several sizes of covers for teardrop campers and trailers.
How to winterize your Teardrop Camper
You will want to winterize your teardrop if you have any plumbing at all like a sink or outdoor shower, so that the water lines won't freeze when it gets below freezing temperatures. There are 2 ways to winterize your teardrop; blowing out the lines so that no water is left in them or draining all of the water from the lines and refiling with propylene glycol antifreeze. The type of antifreeze is important due to toxicity. Check with your manufacturer on preferred method of winterization.
A trickle charger attached to your teardrop camper battery will help to prolong the life of your battery. The battery can be removed and stored inside in a cool place if you live in cold weather climate.
You will also want to remove any items that might freeze or attract mice. Remove all food, spices, soap, bug spray, sun block and other toiletries and store them in the house in a plastic bin.
In the spring you will need to de-winterize your camper if you have added antifreeze. Typically you can just hook up a garden hose and run clean water through the system until the antifreeze is completely drained out. Your teardrop manufacturer will have instructions on the best ways to winterize and de winterize your camper.
Sanitizing your teardrop camper water tank
The next step is to sanitize your water tank so that the water is safe for drinking.
Check out this video on sanitizing the water tank on the T@B 400 by Travels with Delaney – make sure to subscribe to their channel!
---
Teardrop Camper Essentials Buying Guide
Here are some of the must-have products and gear for your teardrop camper or van living. Don't leave home without these Teardrop Camper Essentials