Teardrop Trailers are an easy and efficient way to travel and camp. But because they are so small, many teardrop owners look to expand the living space of their teardrop trailer, especially in the sun and rain. Side tents, awnings and screen rooms are a great way to get that extra space.
Here are my Top 5 Tents for Teardrop Trailers: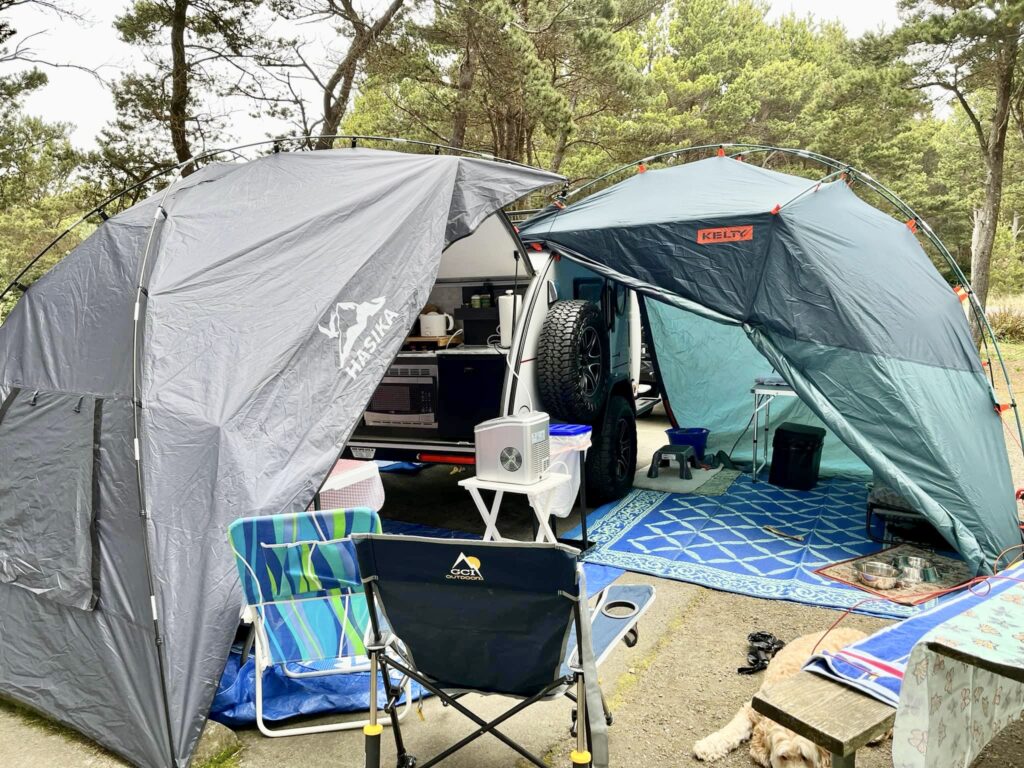 1. Kelty Backroads Shelter
The Kelty Backroads Shelter can attach to either the side of your teardrop Trailer or over the galley. This is not a full room, rather a large awning with sides that can be configured to go right alongside your teardrop trailer, giving you a lot of privacy and protection from the elements. It has a zippered door with window. You will need a way to attach it to the top of your camper, either with crossbars or strong suction cups.
Kelty Backroads Shelter
Universal Mounted Car Camping Shelter with Zippered Entry, Sturdy Frame, Protection from Elements, UV, Stuff Duffel Included
Buy Now
As an Amazon Associate I earn from qualifying purchases. 
10/03/2023 11:56 am GMT
2. Pahaque 5×7 Side Tent and 10×10 Side Tent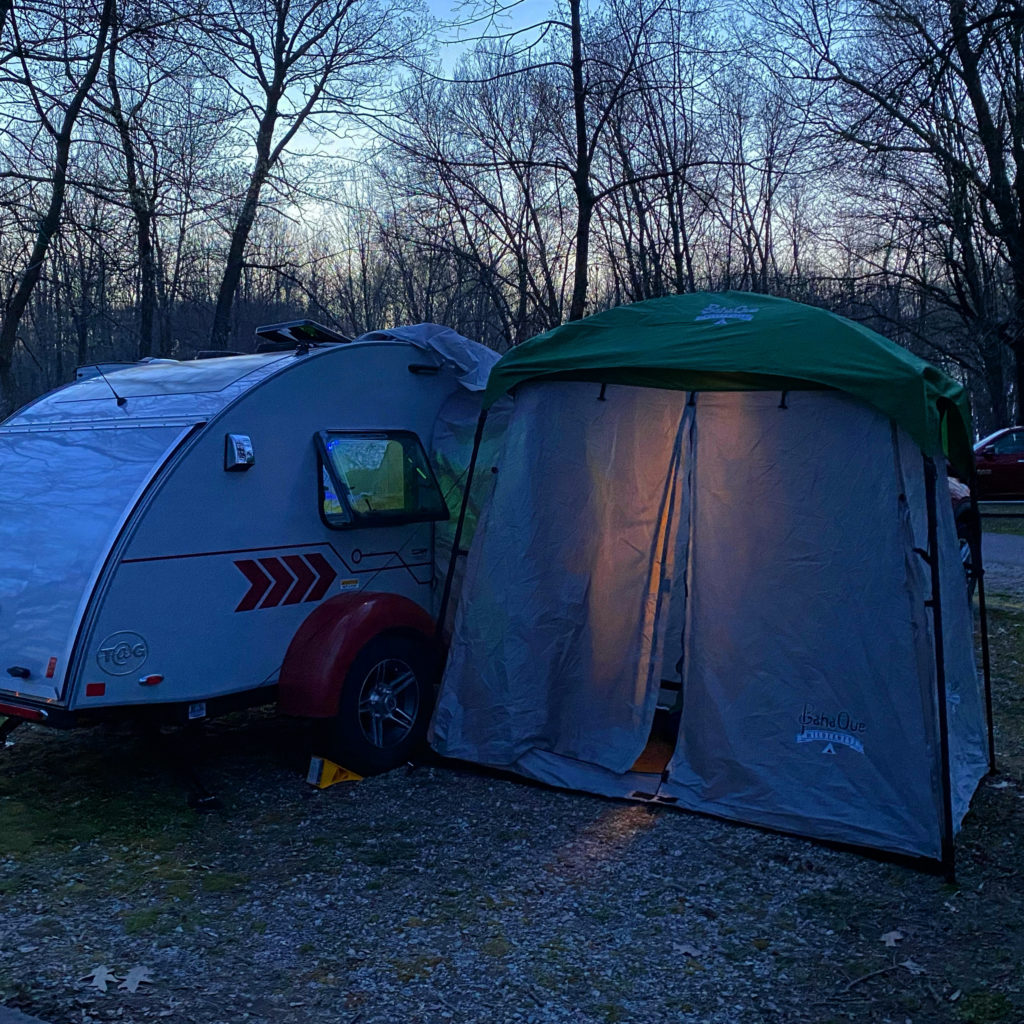 The Pahaque Company makes several styles of tents, awnings and accessories for teardrop trailers. The Pahaque 5×7 Side Tent is my go-to tent for the Nucamp T@G teardrop camper. This tent is made for Nucamp and Little Guy trailers, but may fit other Teardrops that have a channel around the door. This add-on room is small, but gives you the space to get dressed standing up, and comfortably set out a chair and small table. You can fit two camp chairs in the tent, which is cramped but will keep two people comfortable on a rainy or buggy day. You can find more about the Pahaque 5×7 side tent in my review.
My go-to Tent!
The Pahaque 10×10 Side Tent just a larger version of the 5×7 side tent. There is plenty of room in this tent for a few chairs, and is perfect if you have additional family members or dogs that are camping with you but can't all fit into your teardrop camper. It has screen walls on all sides, and canvas walls that can drop down for privacy. This side tent will fit best on the passenger side of the camper, unlike the 5×7 side tent that can go on either door. Find out more about the Pahaque 10×10 Side Tent in our review article.
3. ARB Retractable Awning
The ARB Retractable Awning attaches to crossbars, most people leave the awning attached to their teardrop trailer at all times. You can purchase a screen room separately that attaches to the awning, giving you extra living space and privacy. These awnings come in two sizes 2000x2500mm and 2500x2500mm, so be sure that you get the right size when ordering your screen room attachment.
ARB 4x4 Retractable Awning with Led Light Strip
LED Light Strip Included 2000x2500mm 6.5x8.2 Feet, Ideal for Camping , Roadtrips, Outdoor Trips, Travel, Expedition, RV, Camper, 4x4 and SUV
Buy Now
As an Amazon Associate I earn from qualifying purchases. 
10/03/2023 03:46 am GMT
ARB 813208A Awning Room Accesory
 Deluxe w/Floor 2000mm x 2500mm Heavy Duty) for ARB Awning 814409 2000x25000
Buy Now
As an Amazon Associate I earn from qualifying purchases. 
10/03/2023 12:12 pm GMT
4. King Camp Awning
The King Camp Awning is a popular awning that provides shelter from the sun and rain. This awning is quite popular in use over the kitchen galley. You will need a way to attach the awning to your teardrop trailer, either with roof crossbars or suction cups.
KingCamp SUV Tent
Versatility Waterproof Car Awning Sun Shelter, Portable Auto Canopy Camper Trailer Sun Shade for Camping, Outdoor
Buy Now
As an Amazon Associate I earn from qualifying purchases. 
10/03/2023 10:24 am GMT
5. Clam Quickset Screen room
Clam make several sizes of the Quickset Screen Room. This tent does not attach to your trailer, however you can set it up close, so you can easily access it from your teardrop. The Clam Quickset is a screen room, however you can purchase wind panels to cover some or all of the screen panels giving you more privacy. Some versions come with the wind panels. If you plan to buy wind panels separately, make sure the version of the Clam Quickset you buy has a flap at the top to cover the top of the wind panel to keep the rain out of the screen room. You can find my review of the Clam Quickset Traveller here.
CLAM Quick-Set Traveler 6x6 Screen Tent
6 x 6 Foot Portable Pop Up Outdoor Camping Gazebo Screen Tent 4 Sided Canopy Shelter with Ground Stakes and Carry Bag, and 3 Wind and Sun Panels
Buy on Amazon
As an Amazon Associate I earn from qualifying purchases. 
10/02/2023 07:33 pm GMT