October 2021 marked one year that I have owned this incredible little trailer and in that time I have been to Glacier National Park, Yellowstone National Park, camped at Devils tower, and camped all over the state of Minnesota!
I thought I would summarize my experiences with the NuCamp T@G Teardrop Camper, what I love, what I have changed, what I will probably change in the near future, and why I downsized from a T@B 320 to a NuCamp T@G Teardrop Camper 5-wide.
This page contains affiliate links where if you purchase, and as an Amazon Associate I earn from qualifying purchases. 
Why I downsized from a T@B 320 to a NuCamp T@G Teardrop Camper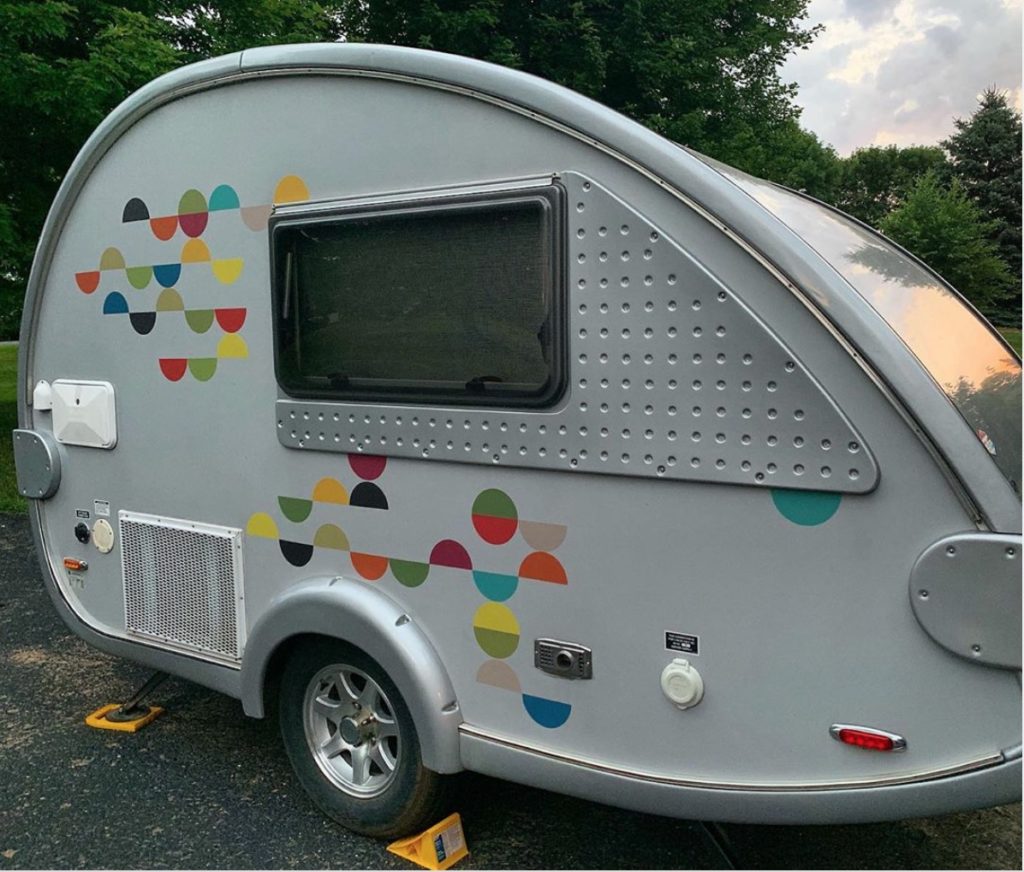 Before I bought the T@G Teardrop Trailer, I owned a 2012 T@B 320 U. The T@B was a fantastic little camper, it was very easy to use, and I had a blast decorating it, and I loved hanging out in it in my back yard.
The only problem I had was I was terrified to tow it! I did not start towing until I was over 50, and even though the T@B was very lightweight and small, I was white-knuckled the entire time, and really never towed it for more than 2 hours either direction. I felt like it was a big waste for me to have a camper that rarely left my driveway, so in the spring of 2020 I sold it. Luckily the T@B was in very high demand so it sold very quickly and for a great price.
Soon after I sold the T@B, I went to the dealership near me and put in an order for a new 2021 T@G. I decided to get the 5-wide because my goal was to have a trailer as small as possible so I would feel comfortable towing. My T@G took about 4 months to be delivered, and it arrived in October of 2020. My "maiden voyage" was to a local regional park about 20 minutes from my house.
I want to take a moment and mention the Girl Camper Podcast with Janine Pettit – this really was instrumental in giving me confidence in towing and handling my own teardrop trailer. You can find the Towing 101 Podcast here. I highly recommend you check out GirlCamper.com as well.
Now I am completely confident about towing, and have pulled this camper all the way to Glacier National Park, Yellowstone and even over the Beartooth Highway! Interestingly, I think now that I have so much experience towing, I would be completely comfortable towing the T@B 320 now!
Top 5 reasons I love the T@G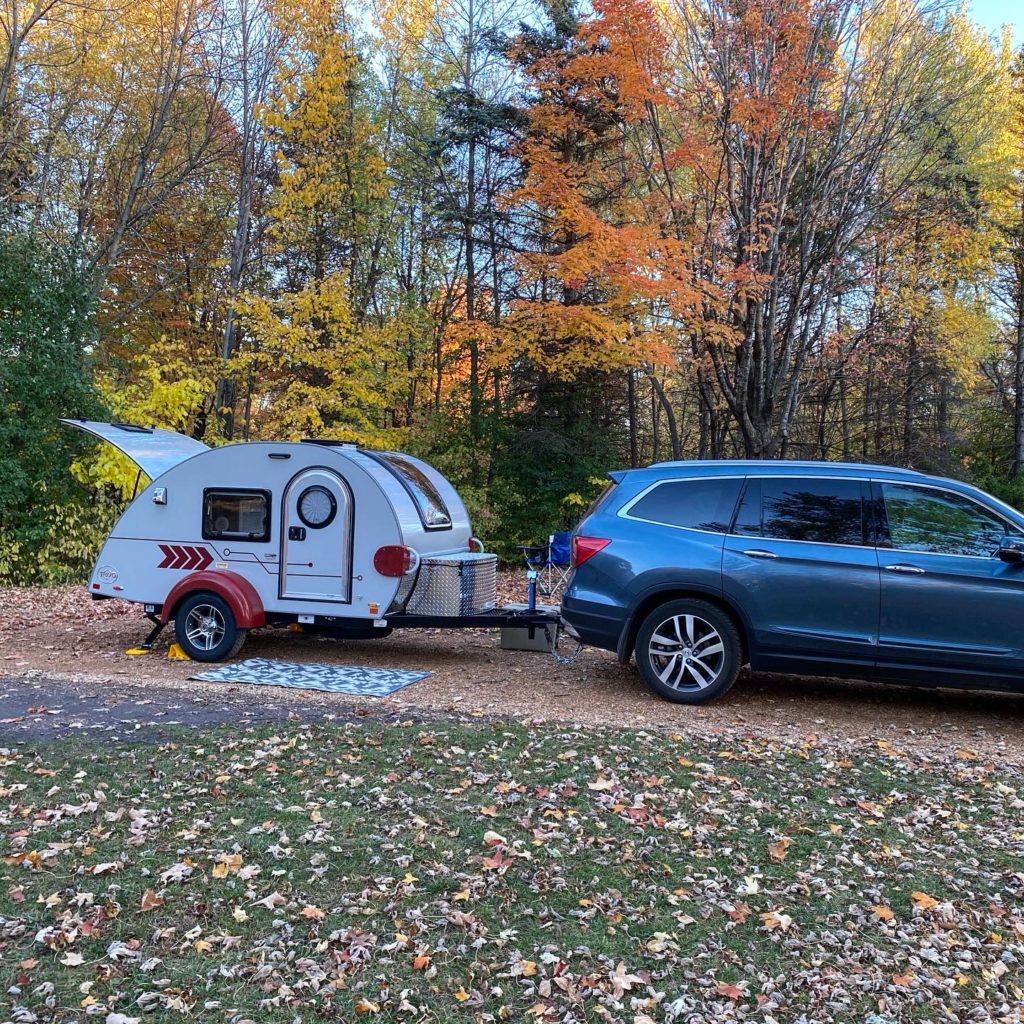 The T@G is easy to tow and handle alone. My husband will camp with me sometimes, but I am able to tow and set up camp without assistance.
Simple and Carefree Teardrop Camping – I can fit everything I need in the camper or in my tow vehicle.
The teardop has Air Conditioning and a Heater. I have actually never used the A/C, the fan works very will so I have not needed it. I have used the heater and that comes in handy on a chilly night. The heater is controlled by a thermostat. You do need shore power to operate both the heat and A/C. Check out my blog on staying warm in your teardrop camper when you do not have shore power.
The T@G has the option for Solar Power. I love that it has a built in solar panel on top of the camper so between charging the battery while towing and the solar, you can have batter power as needed!
The T@G Camper Fits in my garage! This is such a benefit because I can store the camper easily at home with little fear of it being stolen, broken into or damaged in a storm.
Click here for a walk through of the 2021 T@G 5-Wide
Modifications I have made to my NuCamp T@G Teardrop Camper
Here are some of the modifications and additions I have made to my teardrop trailer: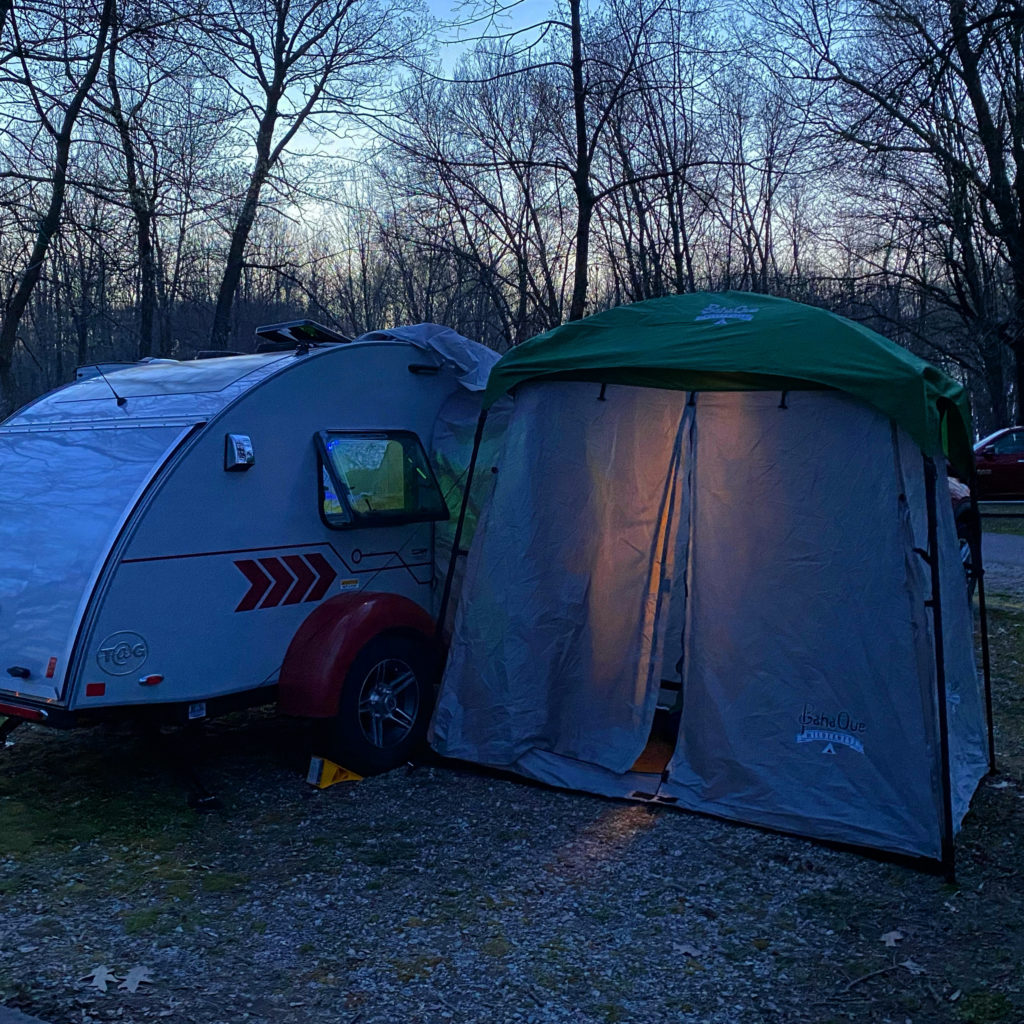 Future Updates to my T@G
I have been considering removing the microwave in the teardrop, because I have only used it once in a year. It would be nice to have more room for storage in the kitchen. I have also recently converted the bed to a single, so there is room in the camper for a little "night stand" – more like a folding computer lab desk, and even a tiny chair. I can still revert back to a double when my husband travels with me. My thought was that it would be nice to have a little coffee maker inside the trailer, instead of having to go out side and make coffee every morning.
I would love to hear your thoughts on modifications that you have made to your teardrop camper!
Products Used in my camper. As an affiliate I may earn from qualifying purchases.