I learned a lot about Teardrop Camper Storage Tips and Tricks during a 12 day trip in my T@G Teardrop Camper. This was my first long trip with my teardrop trailer. This trip brought us to Glacier National Park, Yellowstone National Park, Devils Tower National Monument and more. I filmed the video below while at Devils Tower. This was toward the end of the trip and enough time for me to understand what things I needed and what things I did not!
The main lesson in teardrop camper storage tips is that less is more! For example, I did not need half of the clothes I brought for this trip. A large part of owning a small camper is a constant cycle of taking inventory of what you actually use while camping, and removing the items that you don't use.
Read on for teardrop camper storage tips and tricks which would work for any small teardrop trailer, small camper or camper van.
Teardrop Camper Storage Tips and Tricks
Packing Clothes in a teardrop Camper
On a 12 day trip I brought way too many clothes and did not use even half of what I had with me. The one thing I did do right is bring clothing layers so I was prepared for any kind of weather. We had a huge variation of temperatures – from 32 degrees Fahrenheit to almost 100 degrees, so I am glad I was prepared. I keep a winter hat, gloves and down jacket in my trailer at all times. I have been camping in situations where it is a comfortable 75 degrees during the day, and then dips below freezing at night. You want to be prepared.
I recommend packing cubes as an inexpensive way to keep your clothes organized – these worked great in the tiny cabinets in my camper. I use REI cubes but there are many brands out there. In the future, my plan is to only bring as many clothes that will fit in my camper cabinets.
Pro Tip: We stopped at a hotel with laundry for one night during our trip to wash clothes and recharge our batteries – so make a plan to stop for laundry and cut the amount of clothes you are bringing way down.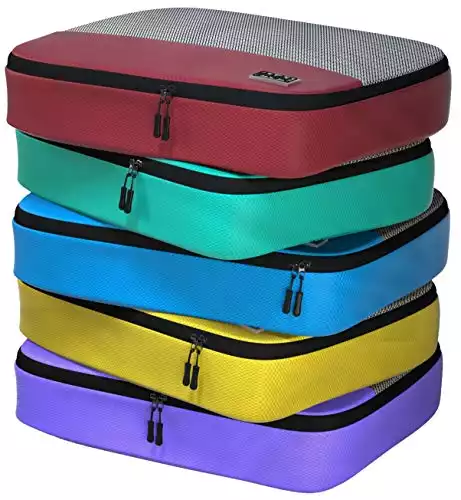 Where to put your shoes in a Teardrop Trailer
This is one of the most often asked questions about teardrop camping, and I have a couple of ways that I store my shoes. If I am staying for more than one night at a campsite, I put up a side tent that attaches to the door of my trailer. That way, even if it rains, my shoes will stay dry because they are inside of the tent, and the inside of my camper stays clean.
I typically have a small indoor/outdoor rug inside the tent which keeps the floor of the tent clean, and I can just wash the rug when necessary. Even if I am not using the side tent, I still put the rug outside the door of the camper, and I can keep my shoes outside if I go into the camper during the day.
Another idea is to have a plastic shoe storage box to put shoes in, and you can just tuck that under the camper at night, keeping the shoes dry even if it rains.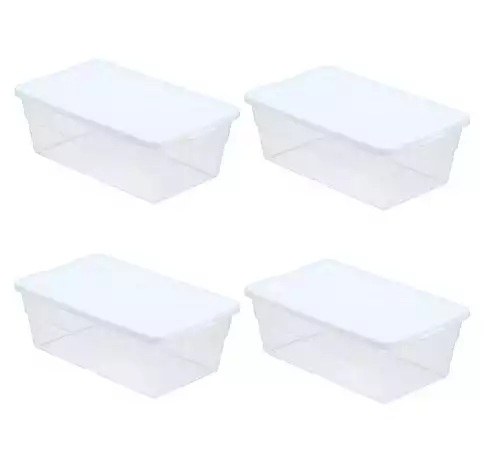 Sterilite Storage Box Pack of 4
$22.99
$18.70 ($4.68 / Count)
 13.5" X 8.3" X 4.8", 6 Qt. Clear - Pack of 4
Buy Now
As an Amazon Associate I earn from qualifying purchases. 
10/03/2023 03:15 pm GMT
If you prefer to keep your shoes inside the trailer, a waterproof bag is the way to go. Make sure the bag has a handle or string at the top, so you can hang the bag inside your camper to save space.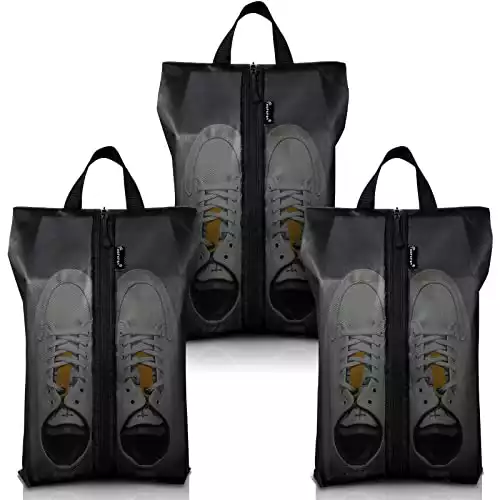 Shoe Bags for Travel, 3 Pack
 XX-Large Waterproof Shoe Bags for Women & Men, Translucent Design protable Shoe organizer bag for Packing with Sturdy Zipper(Black)
Buy Now
As an Amazon Associate I earn from qualifying purchases. 
10/03/2023 03:20 pm GMT
Adding Storage to a Teardrop Trailer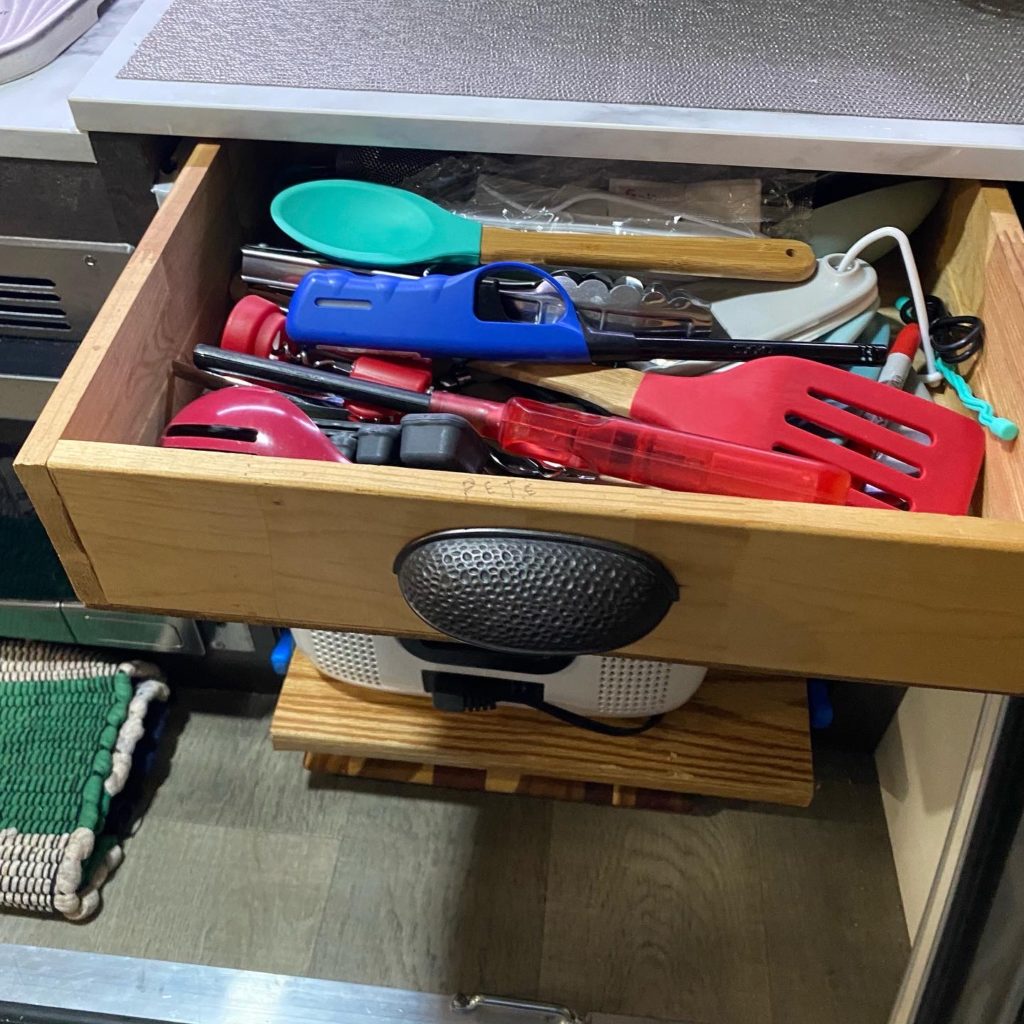 The best way that I have found to add storage to my teardrop is to use Command brand products. They have many useful products that I have added to both the inside of my camper and to the galley. The bonus is that they will not damage the walls of the camper if used correctly. You can also buy heavy duty velcro tape to secure items to the wall. But anything that is on the heavy side should be removed during travel so that it does not damage the wall when towing.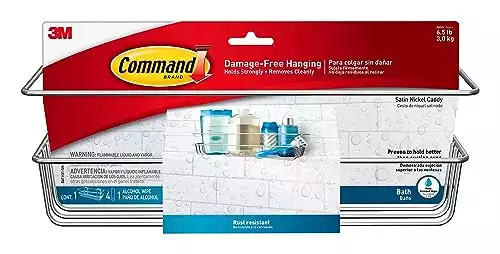 How to Get Power While camping Off Grid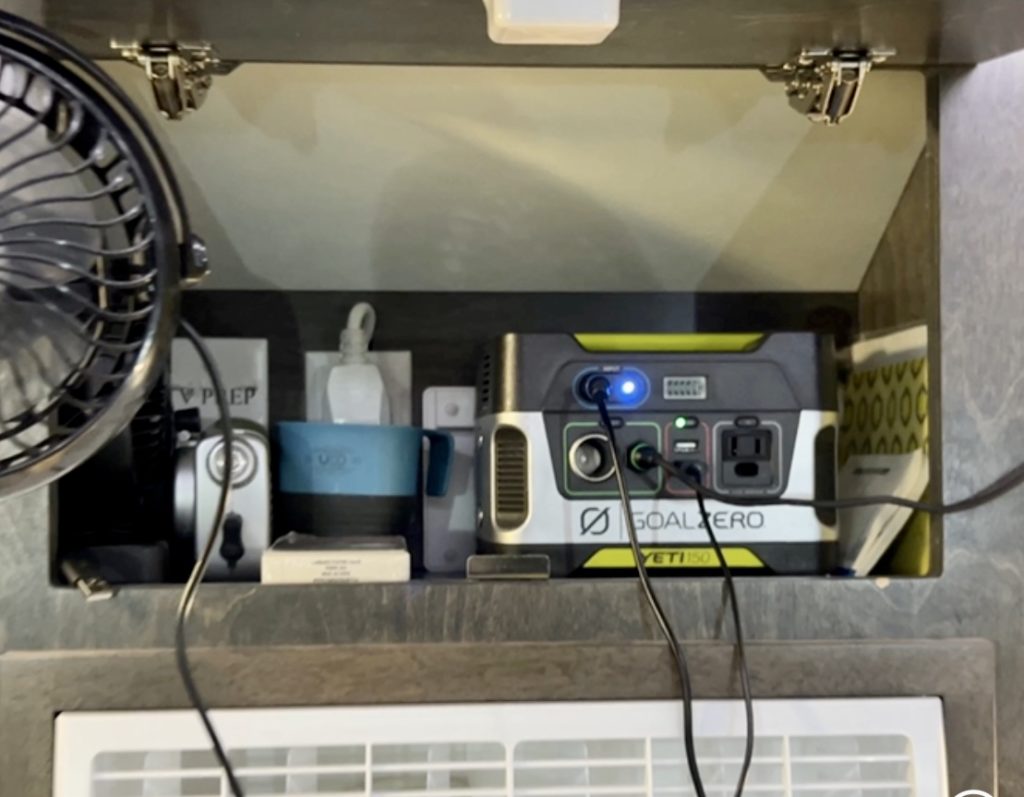 Many National Parks and other Camp Grounds do have have electrical hookups, so you need to have your own way of getting power to change your devices. And in a teardrop camper, you want to keep your power source small. I use a Goal Zero Yeti 150 power station to run a little USB powered fan at night and to charge my phone. This power station fit perfectly into the cabinet in my little camper.
Most of this trip I did not have electric hookups, so even though my teardrop camper has a solar panel which did a great job recharging my camper battery, I was very careful to conserve power. The Goal Zero lantern with dimmer was great to use both inside the camper and outside in the kitchen or at the campfire.
I also used a Goal Zero Yeti 400 to run my ICECO Go 12 12v refrigerator when I did not have shore power. I suggest the lithium version because it weighs less and I plan to upgrade to the Goal Zero Yeti 500 so that the power will last even longer. I would recharge these power stations using the solar panels while camping and a 12v charger in my car to recharge while driving. And since I did a ton of driving this worked out really well.
Check out the article on The Best Goal Zero Yeti Power Stations for Camping for more information.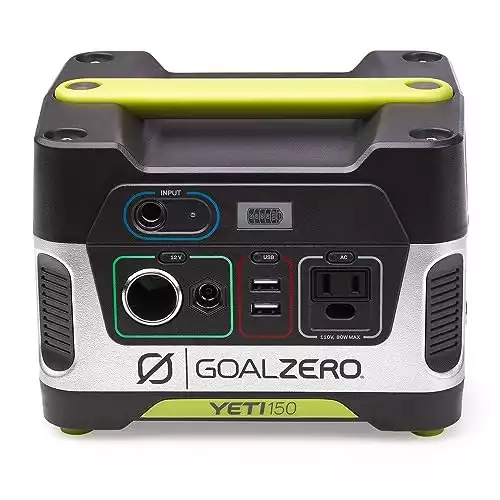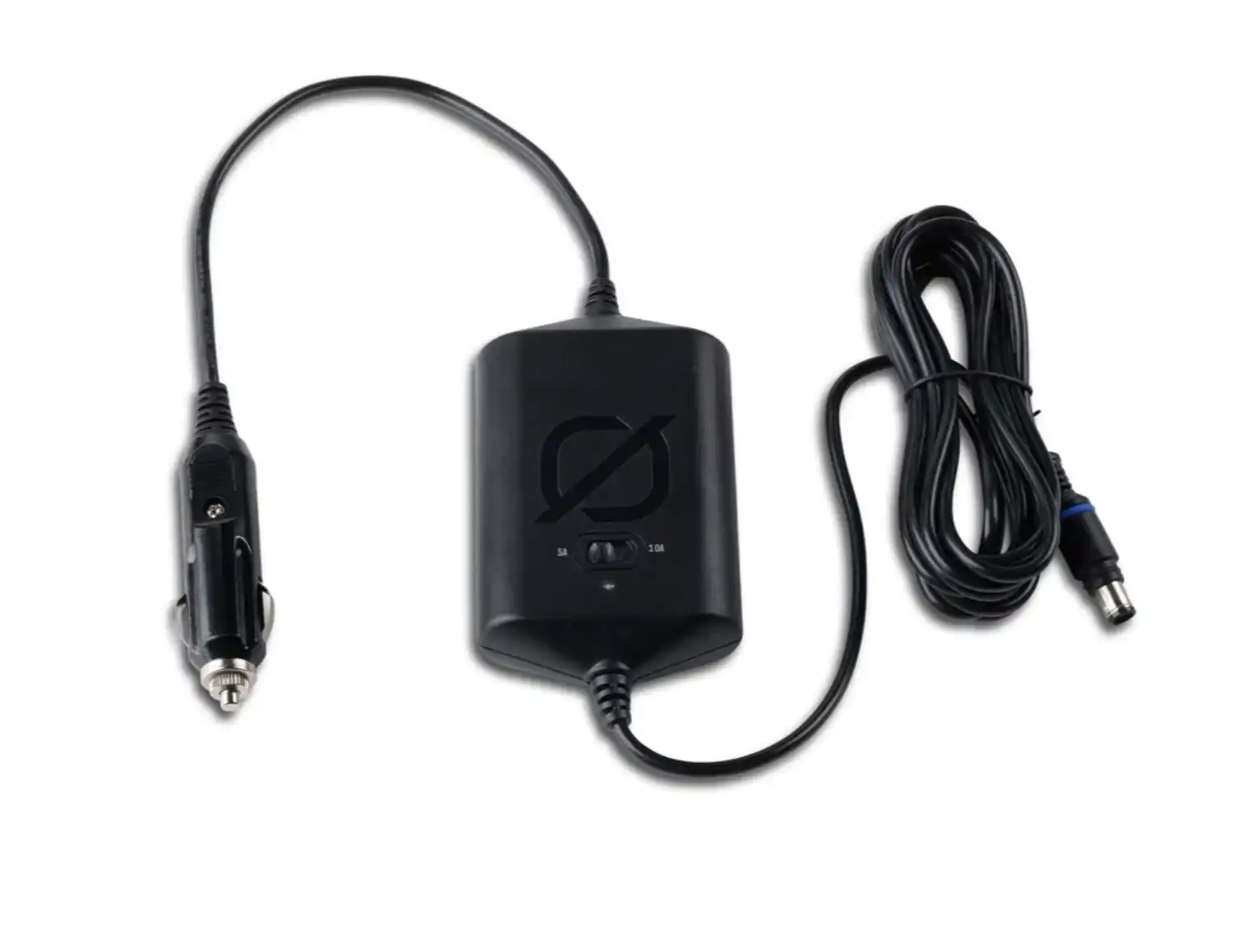 Goal Zero Yeti 12v Car Charging Cable
Used to safely and efficiently charge a Sherpa 100AC, Goal Zero Yeti X, Lithium, or Lead-Acid from a 12V source, featuring a protective 15A user-replaceable fuse.
Buy Now
As an Amazon Associate I earn from qualifying purchases. 
Staying Warm and staying cool in your teardrop camper
Some nights it was as cold as about 35-40 degrees, and having a usb heated throw was a lifesaver to keep warm at night when I did not have electric hookups to run my heater. The usb throw has an automatic shut off – it does a fantastic job of warming you up until your body heat warms up the camper. My Cotopaxi Fuego down jacket kept me nice and warm without overheating. I did buy the men's version because I love the colors.
I did bring a Mr Buddy Heater, which I did not need in my teardrop camper, however my family members did use it in their tent to stay warm. Since this trip I have purchase a UCO Candlelier Lantern to see if that will help slightly heat the camper when I don't have electric hookup. You need to be extremely careful with this however as it's an open flame. Make sure you have a fire extinguisher in your camper.
The USB Fan is one of my favorite item's – I run it every night. I have never used my AC, the fan keeps me cool and helps me sleep, and it is a lot quieter than the overhead fan! Check out this article for 5 things you need to stay warm in a teardrop camper.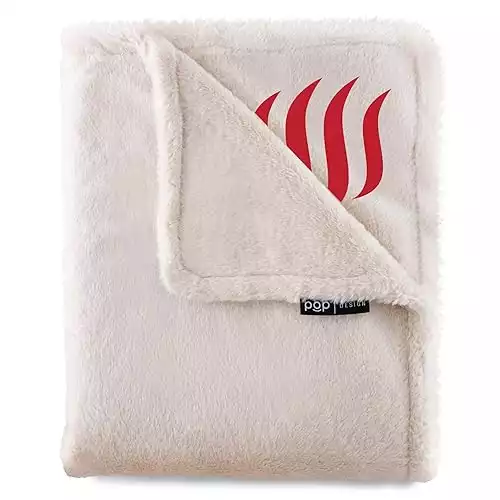 Teardrop Camper Kitchen Storage
The galley of a Teardrop Camper is so small that you really need your kitchen items to be small, collapsible or to be used for multiple scenarios. For example, I use the Stanley French Press set not only to make coffee, but also to just heat up water whenever I need it. These pots last a lifetime. I also have a collapsible pot and pan set that pack small but come in handy when making a bigger meal.
A wind-screen for the stove is a must – have. This is inexpensive but will save you a lot of hassle when trying to cook outside. The UCO Spork is a favorite – light and easy to clean – UCO is one of my favorite brands for camping gear, I now use the UCO mess kits and collapsible mugs in my camper. Speaking of collapsible – my dishpan and drying rack both collapse as well.
I wrote a whole article about Teardrop Trailer Kitchen storage – For more teardrop camper kitchen ideas check out this article!
Ohuhu Camp Stove Windscreen
 10 Plates Aluminum Folding Portable Camping Stove Windshield Cooker Stove Wind Screen with Carry Bag, for Camping Picnic, Backpacking, Cooking
Buy on Amazon
As an Amazon Associate I earn from qualifying purchases. 
10/03/2023 06:09 am GMT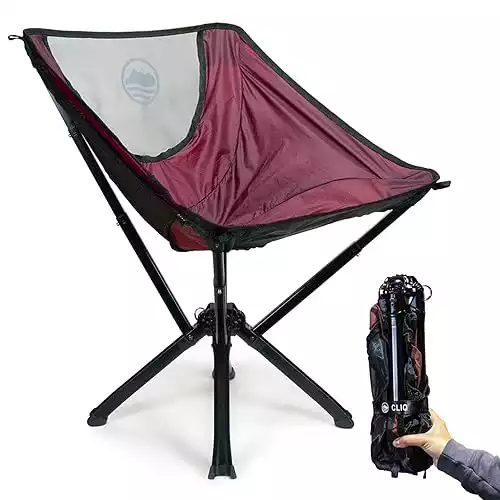 CLIQ Camping Chair.
Most Funded Portable Chair in Crowdfunding History | Bottle Sized Compact Outdoor Chair | Sets up in 5 Seconds | Supports 300lbs | Aircraft Grade Aluminum
Buy Now
As an affiliate I earn from qualifying purchases.
I bought my teardrop camper because it was easy to use, I continue to refine what I bring with me every time I go camping – keeping it simple is key. If you are looking for the basics of what to pack in your teardrop camper, check out our article Teardrop Trailer Essentials on how to get started with your new camper, and Teardrop Trailer Kitchen Essentials.