There is no coffee like camp coffee. For some reason, coffee when camping just tastes better. Here are the Top 5 Camper Coffee Makers, we put emphasis on both size (compact) and durability when compiling this list, with a bonus for keeping the coffee hot! There are both electric and non electric coffee makers on this list. Also see our article on Best Ways to Make Coffee in a Teardrop Trailer.
Here are our choices for Top 5 Coffee Makers for Your Camper
1. Keurig Single Serve Coffee Makers
We like the Keurig because they are compact, and you can make coffee anytime at the push of a button. If you don't like the idea of using the plastic pods, you can purchase a reusable and refillable pod. Here are two of the smaller scale Keurig models to help save space in your camper. You will need electricity to plug in the Keurig to make your coffee.
2. Black + Decker 12 Cup Thermal CofFee maker
If you have a little more space on your RV countertop, the Black + Decker 12 Cup Thermal Coffee Maker could be perfect for you. What we love about this coffeemaker is the Thermal Carafe. You can brew your coffee inside, and then grab the carafe and head outside to enjoy the sunrise! The thermal carafe will keep your coffee hot.
3. Poliviar French Press Coffee Maker
If you prefer a French Press, the Poliviar French Press Coffee Maker has double wall insulated carafe to keep your coffee hot for hours and a dual filter to screen out all the coffee grounds. You will need a way to boil water to use this French Press.
Steps to making French Press Coffee:
Boil water and let cool to about 200 degrees F
Add ground coffee and hot water to the carafe
Add the plunger and screen system and close the lid with the plunger up
Let steep for about 3 minutes
Push plunger down – this pushes grounds to the bottom of the carafe
Serve coffee!
4. GSI Outdoors Stainless Steel Percolator
If you don't have access to electricity, fall back on the old camp standard – the percolator! The GSI outdoors Glacier Stainless Steel Percolator is best used on a camp stove vs a campfire. This percolator comes in 3, 6, 9 and 12 cup sizes so there is the perfect size for every camper. The silicone covered handle protects from burns.
Steps to making coffee in a percolator
Pour water into coffee pot (water should be below basket)
Add coffee to basket, place basket in pot
Boil up water until you see the coffee percolate in the viewer at the top of the pot
Turn down heat slightly – let percolate about 1 minute per cup of water 8-12 minutes
Serve!
5 Camp Coffee Alternative MUD/WTR
5. Coffee Alternative
Mud/Wtr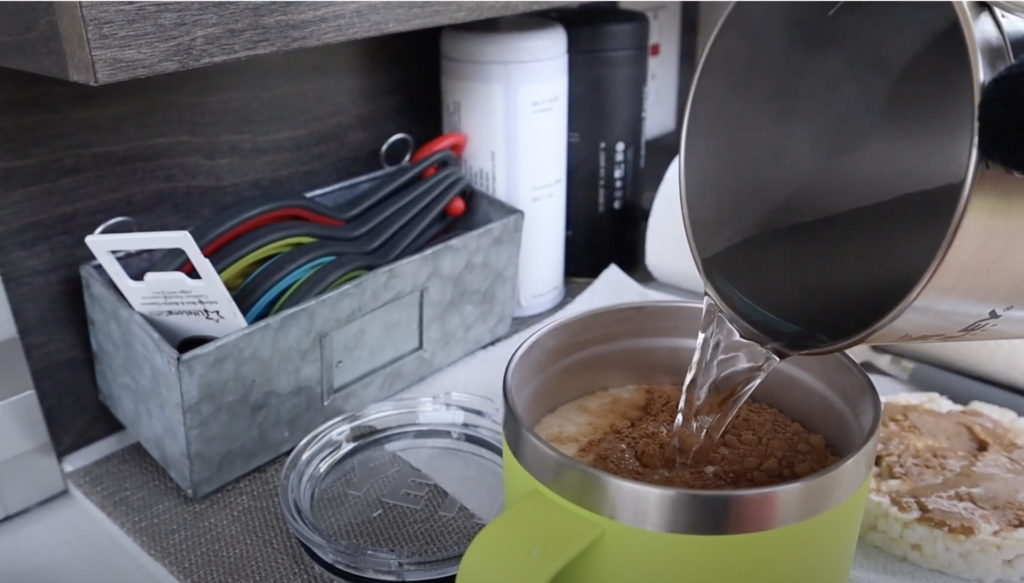 I discovered Mud/Wtr when I was looking for a healthier alternative to coffee. I love Mud/Wtr because it tastes great, and I just add it to hot water made and add my creamer. You can order the Morning Ritual Kit that comes 30 servings and a very cool usb rechargeable frother. This is what I typically drink every morning when I am camping because it is so easy. I use the Stanley French Press pot to boil the water on my camp stove.
Camp Coffee making Accessories
Some of my favorite accessories for making camp coffee. Also see Teardrop Camper Kitchen Essentials for more ideas!