Planning a camping trip and wondering about he best camping gear for kids? Right now you can find a lot of camping play sets and cute camping gear for kids, but if you are serious about camping with your family, you want to make sure they have the appropriate gear so they are warm, dry and safe, so they can enjoy the campout and hopefully become life long campers!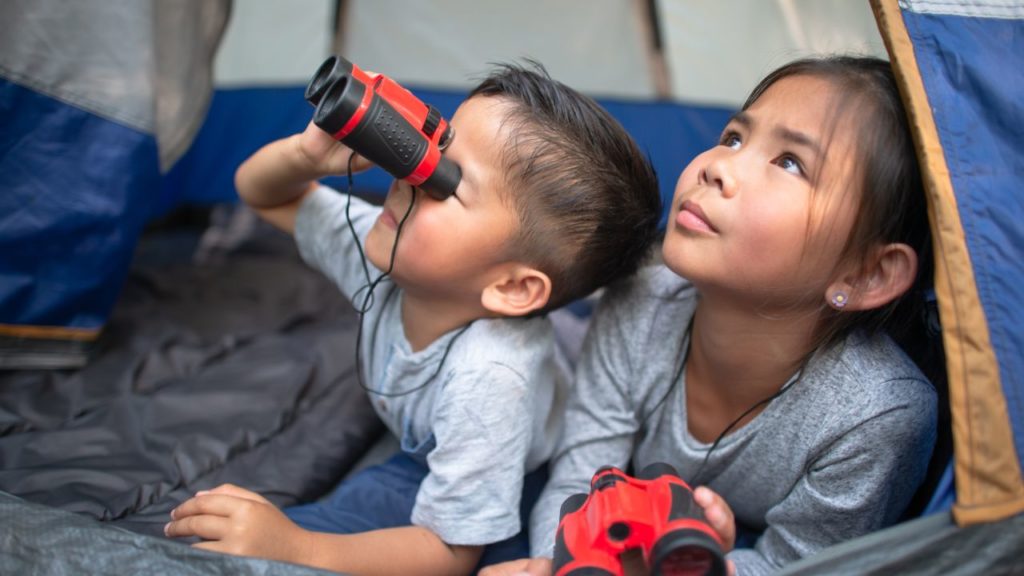 This page contains affiliate links where if you purchase, and as an Amazon Associate I earn from qualifying purchases. 
the best camping gear for kids:
Sleeping Bag and Sleeping Pad
There is nothing worse than being cold at night while camping. It's important to have a great sleep system, which should include a sleeping pad for insulation from the cold ground.
Big Agnes sells 15 degree sleeping bags made for kids that attaches right to the sleeping pad (sold separately)- they come in different sizes; kids, juniors and teens.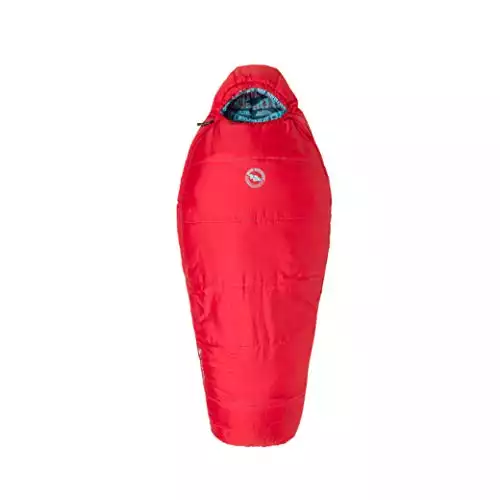 Big Agnes Little Red 15
Kids' Synthetic Mummy Sleeping Bag, Red, Right
Buy Now
As an Amazon Associate I earn from qualifying purchases. 
12/05/2023 09:28 pm GMT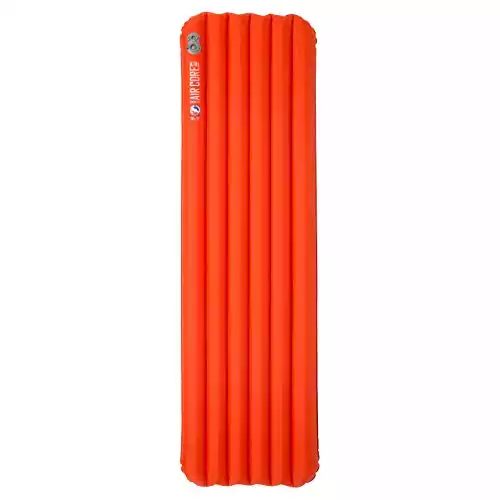 Kids Camping Rain Gear
Camping in the rain can be a wonderful experience as long as you have the right gear and fun things to do! Jan & Jul make of fleece lined rain gear for kids – keeping them warm and dry if you still want to explore in the rain!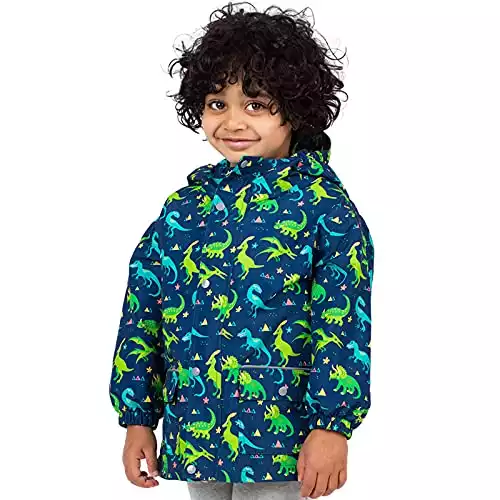 Camp Lighting for kids
Camping out is more fun when you have the right lighting to make those spooky stories around the campfire a little less scary!
Also check out our article on The Best String Lights for Camping!
The Blitzu LED Headlamps are perfect for kids and light the way around the campground handsfree! The headlamps are waterproof, have 7 different settings, have a tilt-able light and adjustable headband! They come in all kinds of designs and colors too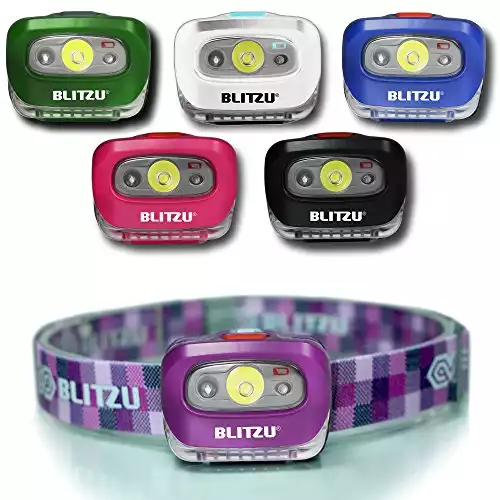 BLITZU Led Headlamps
Camping Essentials for Camper, Kids, Family, Adults. Headband Light Headlights for Head, Headband Flashlights, Led Head Lights, Head Lamp, Camping Gear Clearance, Purple
Buy Now
As an Amazon Associate I earn from qualifying purchases. 
12/05/2023 11:40 pm GMT
The UCO Rhody 130 Lumen Hang-Out Camping Lantern is perfect tent light for any age, is dimmable, comes with a blue night light and this version is USB rechargeable, and also has a USB output to recharge a phone or small tablet.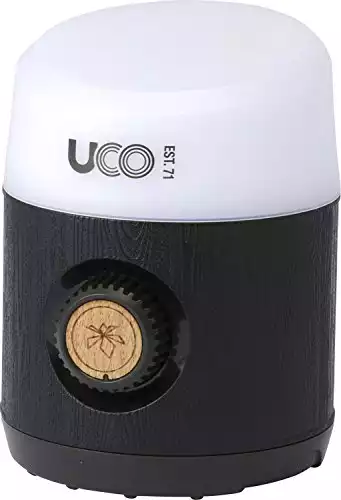 The MPOWERD Luci Color String Lights are great to hang in a tent or screenhouse, or around the campsite. The light is totally solar powered, so never need batteries. Choose from six different colors or let it cycle through all the colors! You can also change your small electronic devices. The string lights store easily within the body of the light, and there is also a flashlight mode.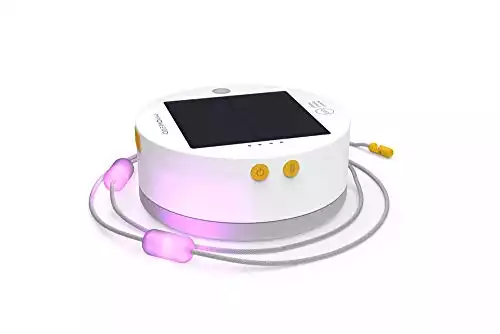 MPOWERD Luci Solar String Lights
BUILT-IN RECHARGEABLE 2000 mAh LITHIUM-ION BATTERY. With 6 colors of ambiance across an 18 ft cord, mobile charging, and lasting up to 15 hours on a single charge, Luci Color String Lights are perfect for illuminating your space.
BRIGHT AND LONG LASTING. Emitting 6 colors (violet, turquoise, green, orange, pink, white) via 20 multi-color LEDs across an 18 ft cord, this light provides up to 15 hours of light on a single charge, so you can keep your day going long into the night.
COMPLETELY SOLAR & NEVER NEEDS BATTERIES. Luci's built-in high efficiency solar panel means that no batteries are needed - ever. Recharge fully via solar or quick charge via USB (16 hours / 4 hours).
Buy Now
As an Amazon Associate I earn from qualifying purchases. 
12/06/2023 12:50 am GMT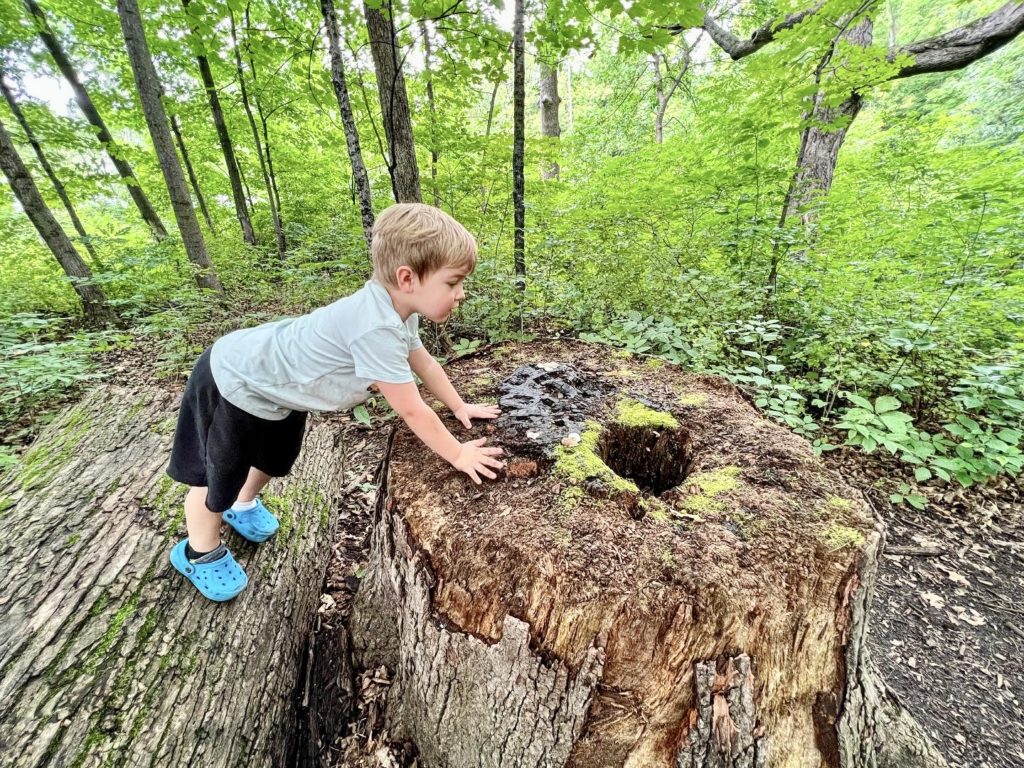 Walkie Talkies For KIDS
Not only are Walkie Talkies fun to use, they help keep kids safe in all kinds of situations. We used this set on a cross country trip with 2 vehicles so we could easily communicate while on the road! They also access NOAA Weather Alerts, a must have when camping.
NOAA 3 Long Range Walkie Talkies
 Rechargeable for Adults - NOAA 2 Way Radios Walkie Talkies 3 Pack - Long Distance Walkie-Talkies with Earpiece and Mic Set Headsets USB Charger Battery Weather Alert
Buy Now
As an Amazon Associate I earn from qualifying purchases. 
12/06/2023 12:15 am GMT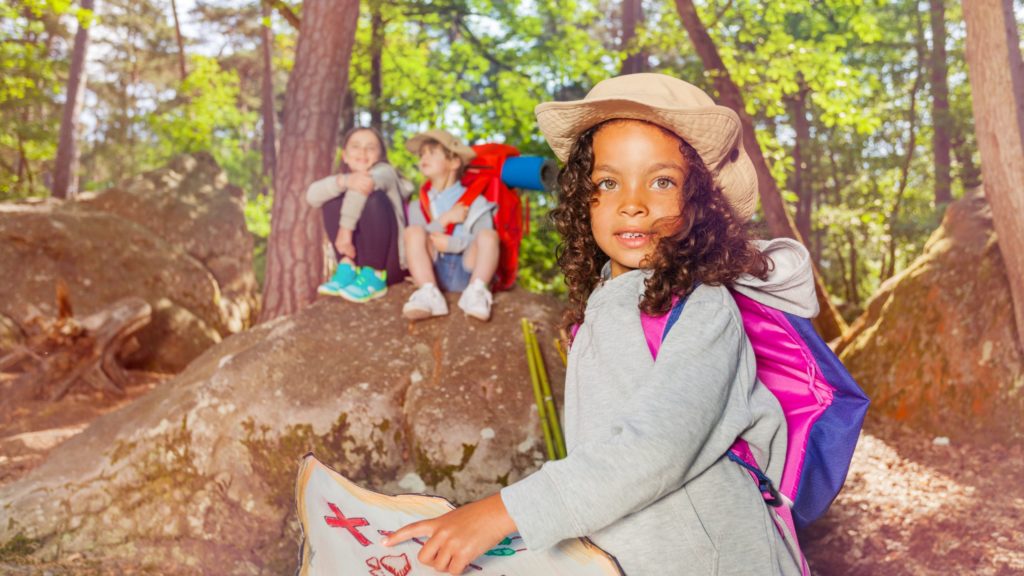 Other Camping Equipment for Kids
Keep the kids busy with camping equipment of their own!
Vanstarry Compact Binoculars for Kids
Bird Watching Hiking Camping Fishing Accessories Gear Essentials Best Toy Gifts for Boys Girls Children Toddler Waterproof 5X30 Optical Lens Including Compass
Buy Now
As an Amazon Associate I earn from qualifying purchases. 
12/06/2023 01:15 am GMT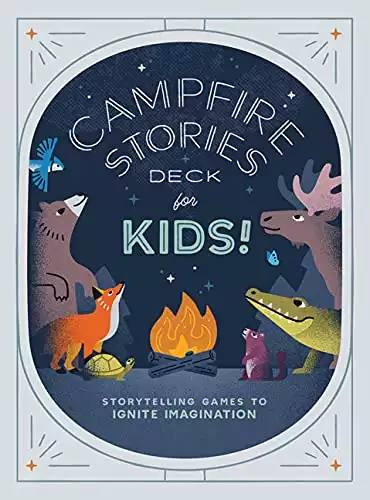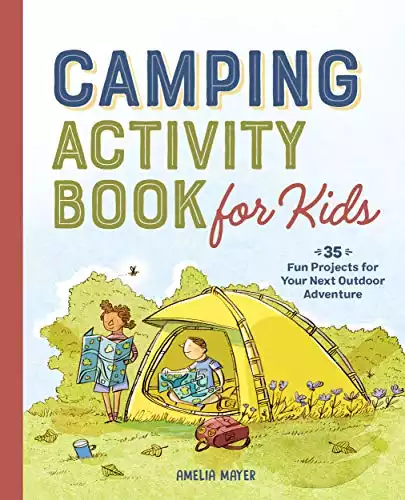 Mess Kit FOR KIDS
I am a big fan of the UCO 4-Piece Camping Mess Kit with Bowl, Plate and 3-in-1 Spork Utensil Set. This kit stores as one piece, and my grandkids love the spork! Easy to clean and store, and the perfect size for kids (adults love them too!) Find out more in our Teardrop Camper Kitchen Essentials blog.