It is very important to hookup your camper correctly and safely, this is not the time to skip steps. With these tips about how to hookup a teardrop trailer confidently and arrive at your campsite safely. It is a good idea to keep a print this out and keep the checklist handy so that you don't miss any steps.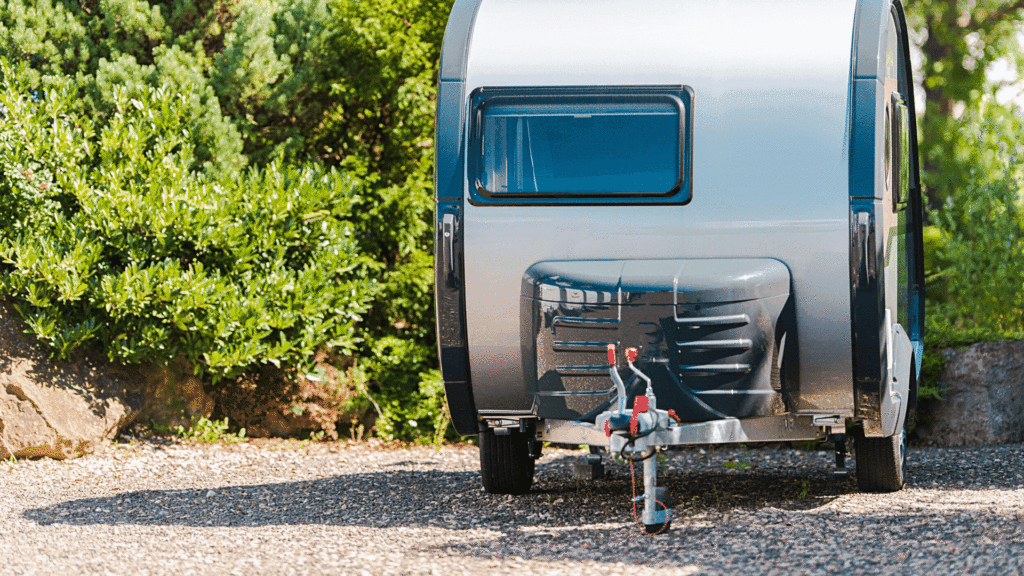 How to Hookup a Teardrop Trailer
Keep in mind these are basic steps, each teardrop trailer is different and it is important that you check with your camper manufacturer for specific steps. You may need to add some steps to this list.
Install correct size ball and hitch to tow vehicle – use locking pin to secure to hitch receiver
Use trailer jack to raise coupler above height of hitch and back up tow vehicle so that hitch is under the coupler.
Lower the coupler so that it sits on top of the ball – secure the coupler over the ball and lock with a locking pin. Crank the trailer up a bit to make sure it is safely secured to the ball.
Cross Safety chains and attach to hitch receiver. You cross the chains so they create a "basket" to catch the trailer if it somehow disengages from the hitch.
Attach breakaway cable to hitch receiver. Make sure the breakaway connection is not loose and cable is not constricted. This cable will turn on the trailer breaks if pulled away from camper.
Crank up the jack so that the wheel or foot is well off the ground. Remove wheel and store where handy so that you can replace it when you get to your destination. Some people use the pin from the wheel to lock the coupler.
Plug in 7 pin connector to tow vehicle. If you are using a bluetooth break controller like the Curt Break Controller, you will plug that in first, and then plug the 7 pin into that.
Remove wheel chocks and makes sure stabilizer feet are cranked up. Put crank and chocks in a safe place in tow vehicle or camper so you won't forget them.
Turn on lights in tow vehicle and make sure trailer lights are on. It is safer to tow with your lights on even during the day. Test turn signals and break lights to make sure they are all working.
Open all blinds and screens in camper. Make sure all windows are locked and fan cover is locked. Secure any loose items. It is safer to have more weight toward the front of the camper or in front of the axle than the back when towing so keep this in mind when packing.
Make sure propane is turned off at tank and door secure
Test all doors to make sure they are secure. I had a door open up when driving and this is scary! I now lock the bolt first and make sure that is secure, and then lock the handle. Double check!
Walk around trailer and make sure everything looks secure before towing.
I hope this helps you understand how to hookup your teardrop trailer. It's not a bad idea to stop after towing a short distance to double check that everything looks and feels secure on your trailer and hitch. If you ever feel overwhelmed or tired, take a break. Check out this episode of the Girl Camper Podcast for great towing tips.
Click here for advice on How to Back Up your Teardrop Trailer
Teardrop Camper Essentials
Here are some of the basic supplies you may need for your teardrop trailer.