Welcome to my Honda Element No Build – Camper Build! The Honda Element is kind of a "cult" car among enthusiasts, due to its unique and boxy appearance and spacious and flexible interior. The interior, and the easy removal of the rear seats, make it the perfect micro camper van.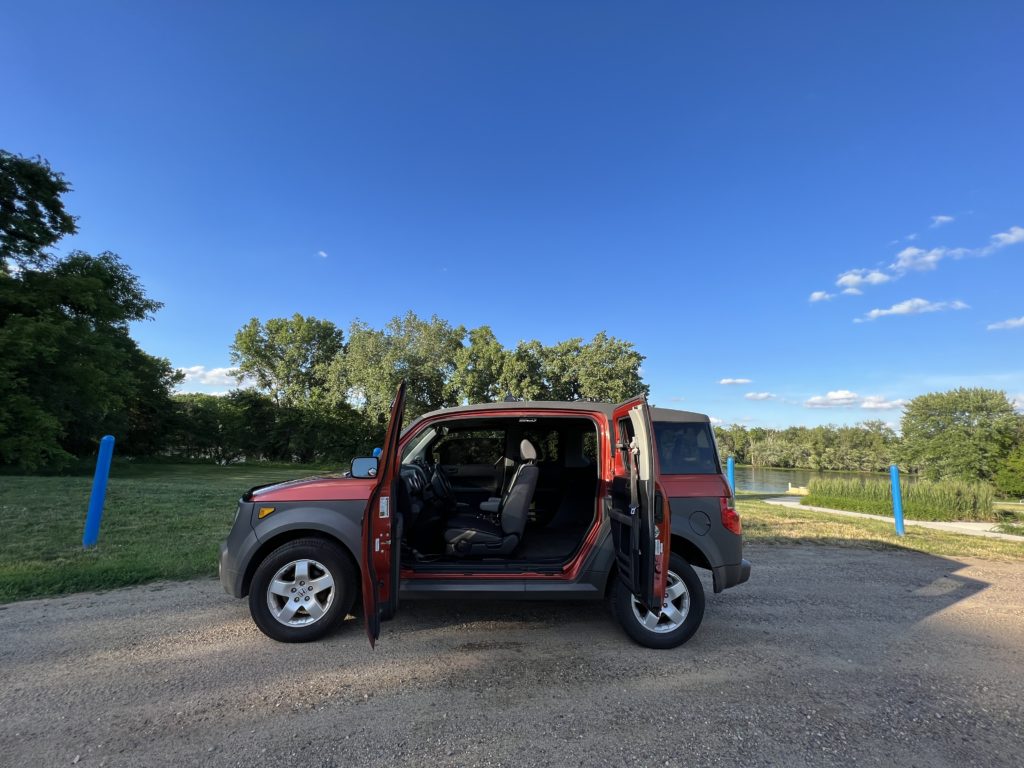 This is a 2005 Honda Element FWD. Because it is a FWD there is no moon roof. There are almost 215,000 miles on this Element, but many of these cars go 300,000 miles and more! They are very simple and easy to repair. One issue to watch out for on the Honda Element is Catalytic Convertor Theft, one of my first mods was to have a cat cover installed by my mechanic to help deter any theft.
I had several goals for this Honda Element Camper build:
1. To be able to easily remove everything from the Element in case I needed it for other uses.
2. To be able to drive the Element without having to remove anything from the camper or move anything around.
3. To easily access the drivers seat for safety in case I had to leave a situation quickly.
4. To be able to access the spare tire without too much hassle.
Honda Element No Build Camper Build
One of the first things I did was modify the back hatch to open from the inside. With the help of a YouTube video I was able to accomplish this "escape hatch" using only a guitar string and a keychain. Click here for that video and my blog about easy Honda Element Camper Modifications.
The best bed for a no build camper van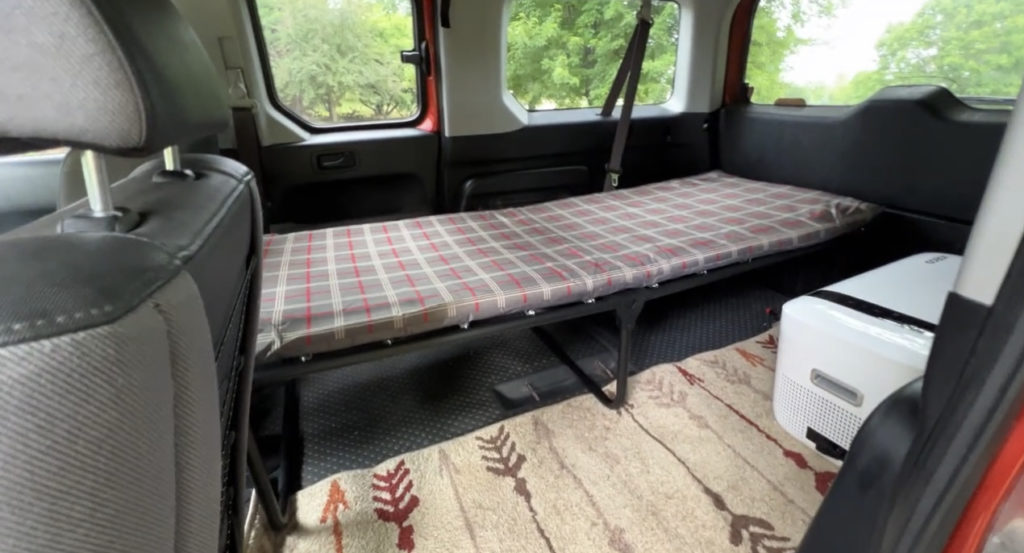 I used the Coleman ComfortSmart 69″ cot as a bed for this camper van. I am 5'6 and this cot is the perfect size for me, if you are taller you will need to get the longer version. I can comfortably sit up on the cot with plenty of headroom. There is also a lot of room under the cot for storage.
I have am using a wool blanket over the cot for more insulation or to use when it's cold.
Honda Element No build Camper van Kitchen
Since the hatch on the Honda Element folds down flat, it makes a great area to use as a kitchen for cooking and washing dishes. I am using a Kelty Camp Galley Deluxe Kitchen Bag to hold all of my kitchen supplies, and a small Coleman Butane Stove to cook with. Check out my teardrop kitchen essentials for a list of small and compact kitchen supplies – perfect for any small kitchen. I keep my Iceco Go 20 refrigerator in the front seat and will store dry goods in my storage bins.
Kelty Camp Galley Deluxe
Camp Galley Deluxe Featured in Outside Magazine's Summer Buyer's Guide as part of the Best Car Camping Kitchen Gear of 2022. "Use attachment straps to hang this zip-up, schoolbag-size kitchen organizer from a tree or cabin post. Mesh compartments and elastic loops hold spices, plates, and utensils. (Bonus: fast air drying!) Hang a paper-towel roll from a cord on the bottom." – Outside Magazine
Buy Now
As an Amazon Associate I earn from qualifying purchases. 
Honda Element Camper Van Power Source and Lighting
I am using both the Goal Zero Yeti 200 and Yeti 400 (now the Yeti 500) in this van. I use the Goal Zero Yeti 200 to power the lighting and to charge my phone and tablet. I am using the Yeti 400 to power the 12v refrigerator. I can plug this into the 12v charger in the Honda Element when I am driving, and I have a Goal Zero Solar Panel that I put on the roof of the van when I am parked, both will charge the Yeti 400 while it powers the refrigerator. You can find more information on the Best Goal Zero Power Stations for Camping here.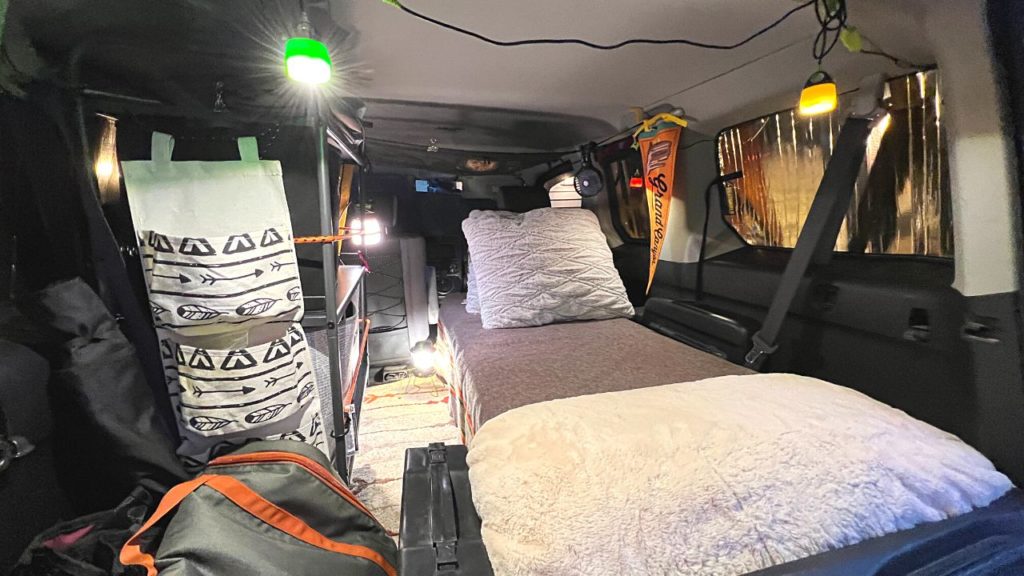 For Lighting I am using the Goal Zero Light a Life Mini string lights, I love these because you can turn them each on and off individually, and they have a dim setting as well. I also use the larger Goal Zero Light a Life, which has a very long cord perfect if you need to move it around the van or campsite, and the Goal Zero Lighthouse 600 Lantern which you can carry everywhere, and it has enough power to charge your phone!
Also see this article about the Best String Lights for Camping!
No Build Camper Van Storage Solutions
For storage, I found a lightweight metal shelf at Target, meant to hold the cloth storage bins. I have a link to a similar product below. I easily hung this from the seatbelt mount and a handle near the door with zip ties and bungie cords. The cloth bins are great for clothing, dry food and supplies, the bungie cords help to hold in the baskets during travel, although you can also put them on the floor until you arrive at your destination. I also found some wooden bins at Target to store under the bed for more tools and camping gear. Hanging the shelf off the floor gives me plenty of floor space to store my backpack and camera bag.
I also hung up a cargo net to store my Weathershield window covers and other items.
Honda Element No Build Camper Van Bathroom
I just use a toilet seat and bucket with bags that can be stored under the bed for emergencies. Check this article for building a portable bathroom while camping if you need to have a more elaborate set up for boon docking.
This set up should work for any Honda Element or Mini Van camper. I hope this is helpful in getting your no build – build started!