If you own a teardrop camper, you know that storage space is extremely limited, especially in the teardrop galley. For this reason it is important to keep your teardrop camper cookware simple and compact. Here is a list of the best teardrop camper cookware that will fit nicely in your teardrop camper galley without limiting your cooking options. Check out our Teardrop Camper Kitchen Essentials for more tips!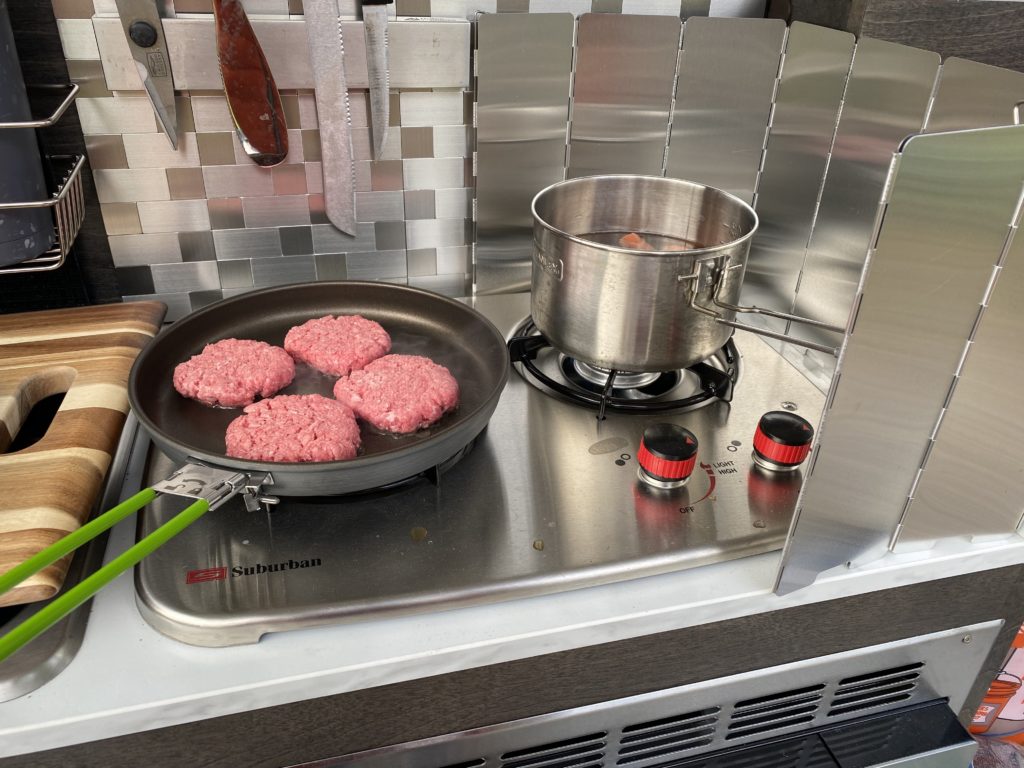 GSI Outdoor Escape Collapsible Pot and Frying Pan Set
I love this set because it takes up so little room in the cabinet but you can cook pretty much anything you need to with this set. The collapsible pot folds down and stores neatly into the frying pan and the set comes with a storage bag as well.
Stanley French Press
Anything that can serve a double duty is great for the teardrop camper galley. While this is great for making coffee (see our best ways to make coffee in your teardrop camper) the little pot is wonderful on its own for just quickly boiling a pot of water when you need it.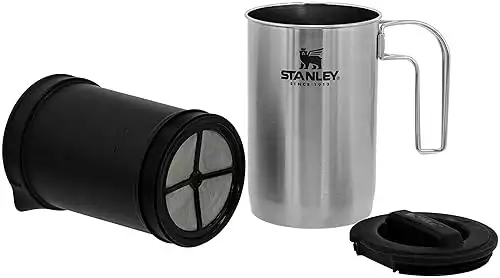 Cast Iron Frying Pan
A cast iron frying pan may be a bit heavier than you like for storing in the teardrop camper, however you can use this pan over the campfire without worry about damaging it. This makes it a must-have for your teardrop cookware set.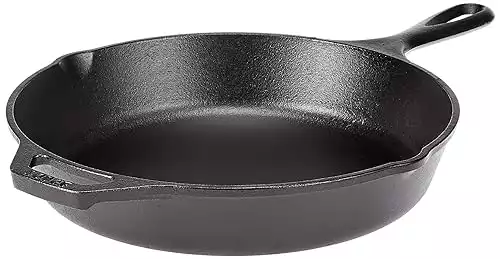 Stanley Adventure 2 Bowl Cookset
This classic Stanley Cookset comes with a 2 liter pot and lid, two bowls with lids, a folding cutting board and folding spatula and ladle, all stored inside the pot. A lot of items fitting into a compact pot.
Omnia Oven
Thought you couldn't bake while camping? The Omnia Oven kit allows you to bake all of your favorite treats right on top of your campstove!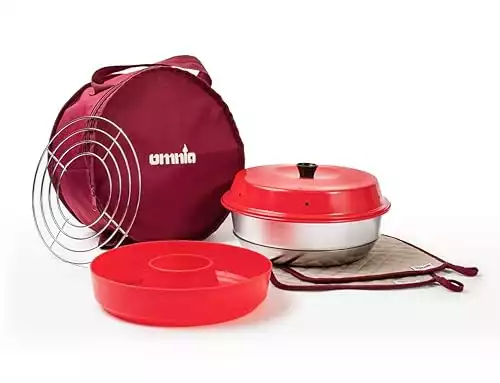 OMNIA Oven Kit
OMNIA Kit 1, Set of 5 Products - Camp Oven, Silicone Mold, Potholders, Baking Grid and Storage Bag - Ultimate Starter Kit Recreational Oven
Buy Now
As an Amazon Associate I earn from qualifying purchases. 
10/03/2023 10:17 pm GMT
Windscreen
This may be one of the most important items you have as part of your teardrop camp cookware. This inexpensive screen will protect your stovetop from the wind and make cooking so much easier. It folds up small and comes with a storage bag, and tucks easily into the cabinet or shelf.
Ohuhu Camp Stove Windscreen
 10 Plates Aluminum Folding Portable Camping Stove Windshield Cooker Stove Wind Screen with Carry Bag, for Camping Picnic, Backpacking, Cooking
Buy on Amazon
As an Amazon Associate I earn from qualifying purchases. 
10/03/2023 06:09 am GMT
Coleman Portable Butane Stove
Even though I have a 2 burner stove in my teardrop galley, I like to carry this small cook top for frying bacon, hamburgers or anything else that may splatter and make a mess in my galley. This cook stove runs on butane canisters and comes in a carrying case.