Whether you are winter camping or just taking the chill off a cool evening, a portable heater can make a big difference in the comfort of your small camper. A note: Most people do not camp in below zero temps and these heaters may not do the trick in extreme conditions.
A good practice is to warm up your camper before you go to bed, and then again in the morning when you wake up. This is safer than running a heater while you are asleep in a small space and will save on fuel. Your body heat will help to warm a small camper as well. Check out our article on 5 Things You Need to Stay Warm in Your Teardrop Camper if you want to camp without a heater or to help you stay warm throughout the night.
Read on below for options for heating a teardrop trailer or camper van.
Portable Heater Safety Considerations
When using a portable heater in a small space, safety should be a top priority. Here are some important safety considerations:
Ventilation: It may seem counterintuitive, but please make sure to crack a window or vent to allow fresh air to circulate throughout the camper. This will help to prevent the buildup of carbon monoxide, and condensation.
Carbon Monoxide Detector: It is highly recommended to install a carbon monoxide and smoke alarm in your camper if you don't have one already. This will alert you to emergency levels of carbon monoxide gas or any smoke in the camper. It's also a good idea to carry a fire extinguisher in your van or camper.
Fire Hazards: Keep flammable materials away from the heater and make sure it's on a stable surface. Never leave the heater unattended – turn off before leaving the camper. Electric heaters should be plugged in directly to the wall outlet and not an extension cord or power strip.
Size and Wattage: Make sure the heater you are using is the appropriate size and wattage for your camper or power source. This may take some testing of different heaters, but you do not want an undersized heater that may struggle to heat your space.
Maintenance. Follow the manufacturer's instructions for cleaning and maintenance of the heater.
By following these safety considerations, you can enjoy the comfort and warmth of a portable heater in your teardrop camper while ensuring the safety of yourself and others.
Types of Heaters for heating a Teardrop Trailer or Camper Van
Here are some of the different types of portable heaters available on the market that can work in a teardrop trailer or camper van.
Electric Ceramic Heaters:
These are a popular choice for small campers if you have electricity. Electric Ceramic heaters work by heating up ceramic plates that then radiate heat into the surrounding area. They are typically quiet and energy efficient. Typically you will need an electric hookup, generator or for smaller heaters something like a Goal Zero Power Station to run this type of heater. For safety against overheating, heaters should be plugged in directly to the wall outlet and not an extension cord or power strip.
The Lasko My Heat Heater – this uses only 200 watts and is perfect for heating a small space, especially if you are using a power station.
This popular little heater plugs directly into the a/c socket and has a thermostat and timer built in.
Metkiio Portable Mini Heater. Added here for aesthetics. This cute little heater uses as little as 400 watts, and also can be used as a small fan on warmer days.
The Lasko Oscilliating Digital Ceramic Tower Heater uses 1500 watts, has a remote control, thermostat and timer. This is best used if you have shore power hookup to electric.
Propane Heaters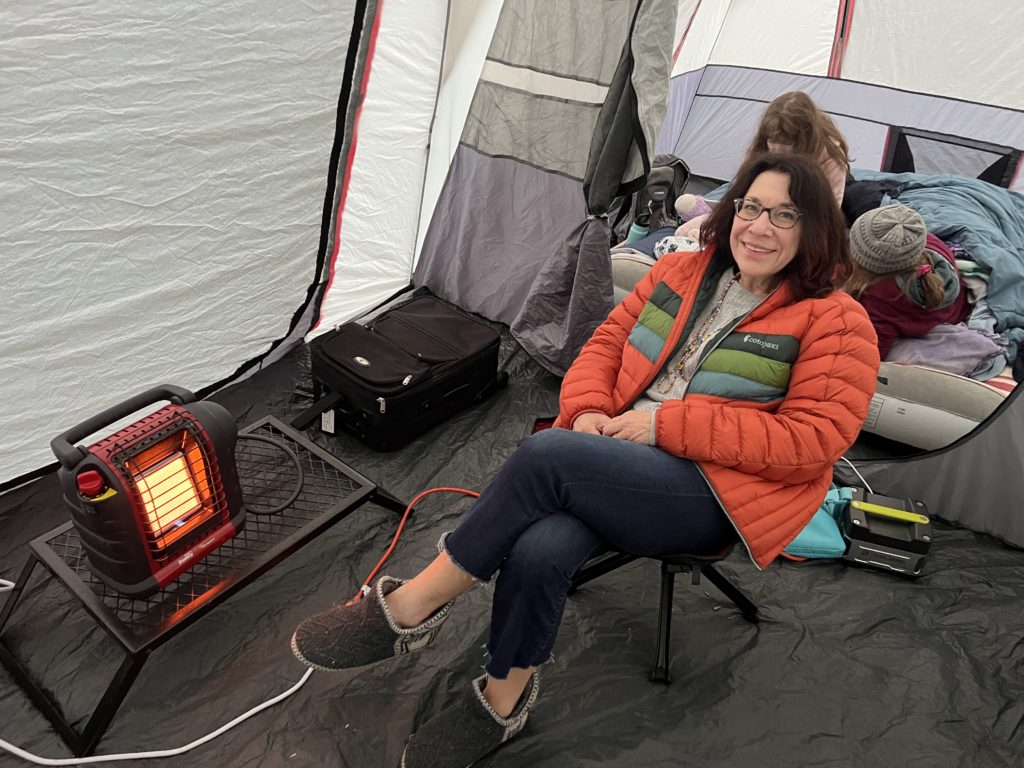 These heaters use propane gas to create heat, making them a top choice for off grid or boondocking. They are typically lightweight and portable. We have used our Mr Buddy to warm up a tent and camper.
Mr Heater is the most popular brand for propane heaters, and they make several sizes of heaters that can work in a small space. They use the small green propane bottles for fuel, and Mr Heater does sell an adaptor hose to attach the heater to a larger propane tank.
Butane Heaters
Similar to propane heaters, butane heaters use the small butane canister for fuel. These heaters have an open flame as well, so it's important to keep it away from flammable materials. Here is a great review from the Outdoor Gear Review outlining the pro and cons of this heater with a safety warning.
Vented Propane Heaters
While this heater may be overkill for most teardrops, if you are planning to do true winter camping, the Dickinson Propane Heater is an interesting option. The heater is vented out of the top or side of the camper (which involves cutting holes in your camper). I saw this first on this Slim Potatohead video. Subscribe to his channel for a lot of excellent small camper content. This heater was originally designed for boats. I do not have an affiliate link to the Dickinson P-9000, the P-12000 is shown below.
The heaters we've listed here are all great options for teardrop trailer and camper van owners. They're all portable, easy to use, and have a range of safety features that make them ideal for use in a small space.
When choosing a portable heater for your teardrop camper, make sure to consider your specific needs and preferences. Think about how much heat you need, how easy the heater is to use and transport, and what safety features are important to you. Have fun and stay warm!