Summer is the most popular time for camping and it can get hot! Read on to learn more about how to keep cool in your teardrop trailer with these tips!
Use the Teardrop Trailer Air Conditioner
Using the camper air conditioning system may seem like the obvious answer to this question, however, not every teardrop trailer has an air conditioning unit. And even if you do have a/c in your camper, you will need to have access to electric hookups in your campsite or a generator to be able to use it, the a/c will not run on battery power.
If having air conditioning in your camper is important to you, you will want to make sure you buy a teardrop trailer that has a/c, and then camp in campgrounds where you can plug in to electricity or run a generator. Beware, many campgrounds limit the hours that you can run a generator, and some do not allow generators at all.
Using Fans to Cool Your Camper
Most teardrops have a fan in the roof for venting. Many of these fans are able to pull air in and can be reversed to push air out. If you enter your teardrop trailer and it's very hot, open your side windows and set your fan to blow the hot air out of the camper and out through the roof. It will pull fresh air through the windows.
My small USB Powered Fan is one of my favorite item's – I run it every night. I personally have never used my AC, the fan keeps me cool and helps me sleep, and it is a lot quieter than the overhead fan! 
BESKAR USB Powered Clip on Fan
6 Inch Portable Fan with Cord, 3 Speeds Strong Airflow, Small Fan with Sturdy Clamp, Quiet Personal Desk Fan & Clip Fan
Buy Now
As an Amazon Associate I earn from qualifying purchases. 
10/03/2023 01:28 am GMT
Cover your Camper Windows
There are a couple of ways your can cover your camper windows to keep the sun and heat out. If you have an awning style window – one that you push up to open – then you can make covers for those windows. The window covers will both block the sun and provide privacy in your camper, even when the window is open.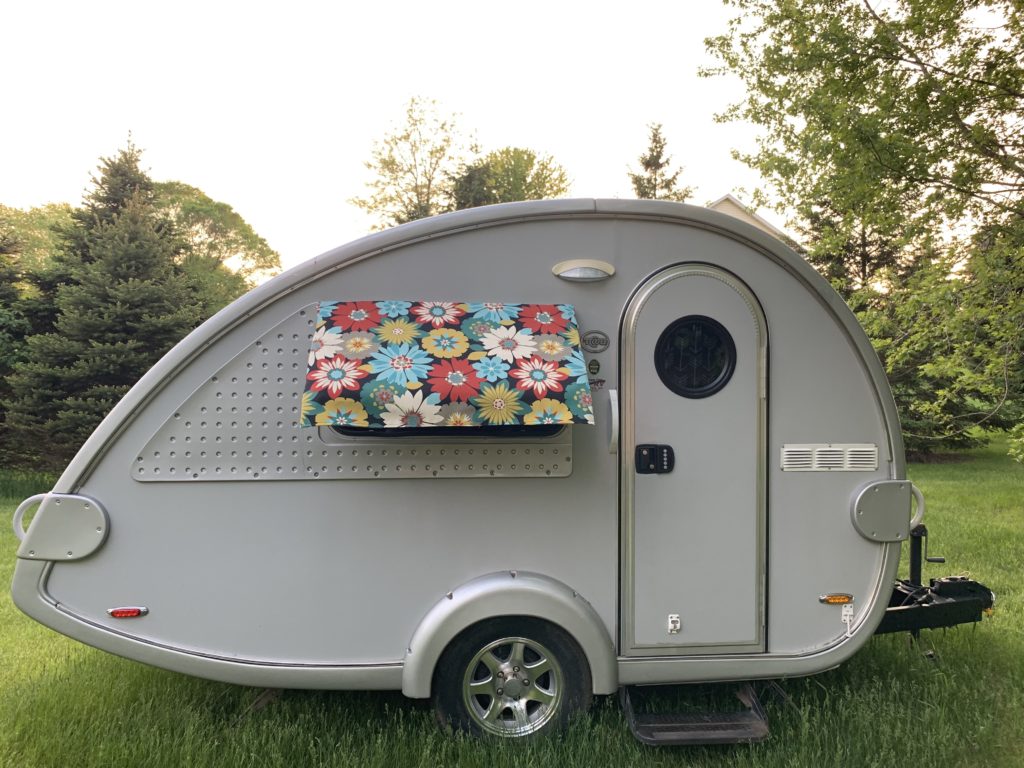 You can also make custom sized window covers out of a product called Reflectix. This is a foil insulation that you can cut to the size of your window. It not only provides insulation, the shiny material can also reflect the sun, similar to the way a windshield cover does in your car. Many car campers also use this product to make window covers.
Check out this article for 5 things you need to stay warm in a teardrop camper.
Park your Camper in the Shade
Where you park your teardrop trailer makes a difference, if it is very hot out, you may want to consider parking in the shade. Be careful that you are not parking under any dead tree limbs. If you need to charge your solar using a panel on top of your camper, you need to be aware of that as well.
You can also consider using an awning or tarp to help provide shade outside of your camper. Check out our article on the Top 5 Tents for Teardrop Trailers. Keep in mind that any screen sided tent will often times be hotter inside, because of a lack of air flow.
Use a Cooling Towel
A cooling towel works by cooling as the water evaporates from the wet towel against your skin, providing a cooling effect. You wet the towel, wring it out and then lay it against your skin. If it is very hot where you are camping, make sure you are staying well hydrated.
YQXCC 4 Pack Cooling Towel
$17.99
$15.99 ($4.00 / Count)
(47"x12") Ice Towel for Neck, Microfiber Cool Towel, Soft Breathable Chilly Towel for Yoga, Sports, Golf, Gym, Camping, Running, Fitness, Workout & More
Buy Now
As an Amazon Associate I earn from qualifying purchases. 
10/03/2023 02:20 am GMT