When you own a small teardrop camper you spend a lot of time outdoors around the campfire, so finding comfortable and compact camping chairs is important. Here are our top 5 picks for camping chairs for your teardrop camper.
Top 5 camping chairs for your teardrop Camper:
GCI Kickback Rocker
This may be the perfect chair for sitting around the campfire. This chair is a bit lower than traditional chairs and the rocking action makes it very comfortable. It holds up to 250 lbs and folds up nicely to stow away in your tow vehicle. I can fit two of these and a small table in my Pahaque 5×7 side tent.
CLIQ Camping Chair
I read about this chair and had to check it out for myself. This really is a great little chair. It folds down a little larger than a large water bottle, so it is easy to stow in your teardrop or tow vehicle. It takes a little longer than "5 seconds" for me to set up, but under a minute for sure. It is surprisingly sturdy and comfortable for such a small chair.
POP Design The Hot Seat
Anyone who has followed me on my YouTube Channel knows that one of my favorite camping items is my USB Heated Throw by POP Design. When you have a teardrop camper you spend a lot of time outside, even when it's chilly. How nice to have a chair with a heated seat! You can tuck a small battery pack in the pocket and enjoy the heated seat!
ALPS Mountaineering Roamer Chair
Looking for a chair that will fit inside your teardrop camper? This ALPS Mountaineering Roamer Chair is the perfect height so you can sit inside most teardrop campers.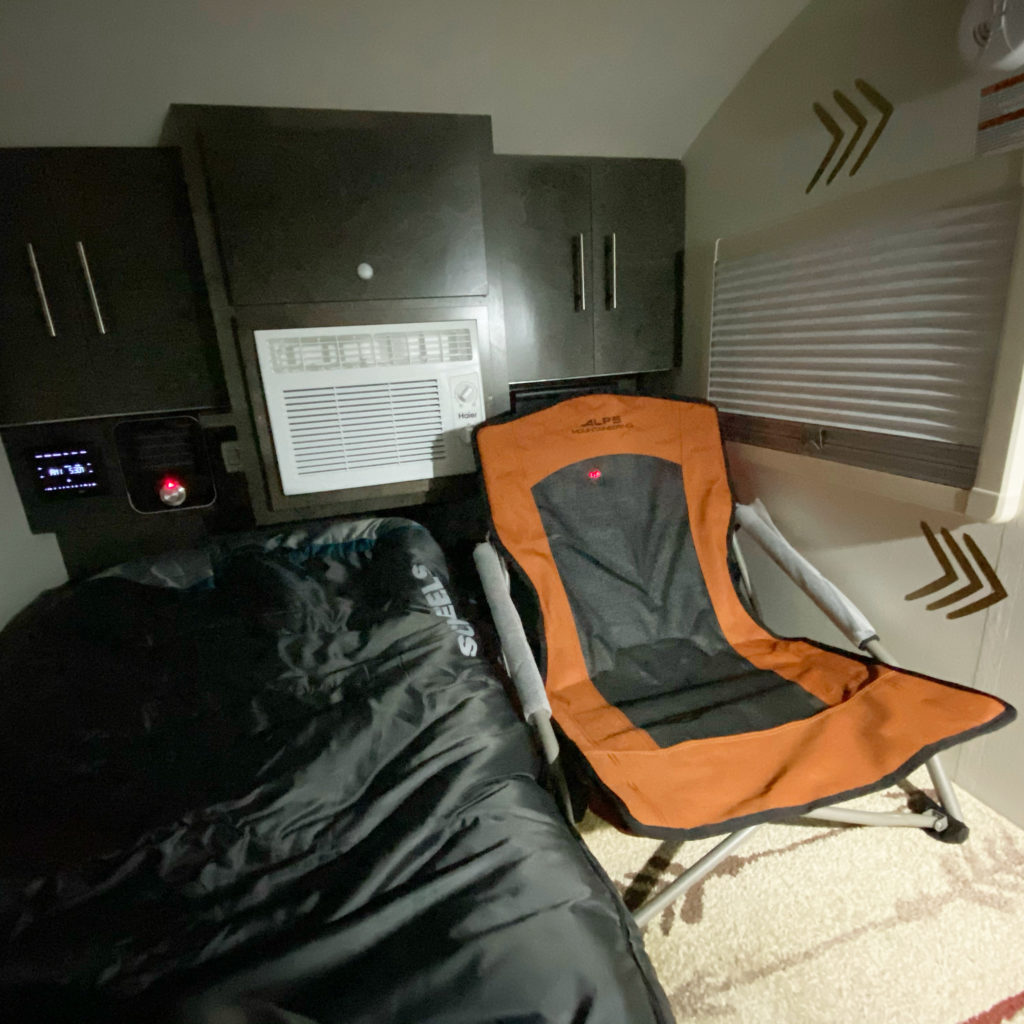 Nemo Equipment Stargaze Recliner
Looking for something a little more comfortable? The Nemo Equipment Stargaze recliner fold up to a compact size and the swinging and reclining chair is perfect for watching the stars around the campfire at night!
Bonus – Outdoor Side Table
If you are looking for the perfect folding table for camping, check out this very sturdy table with 2 cup holders. It folds flat for easy transport.
What are your favorite camping chairs for your teardrop camper? Let us know in the comments below!