Teardrop Trailers are one of the most popular styles of small camper or RV, due to their light weight, ease of towing and set up, and the extreme comfort they offer vs tent camping. Many are small enough to be stored in a residential garage! If you are looking into this style of camper, you can expect to find more comfort, simplicity, quality and ease of use.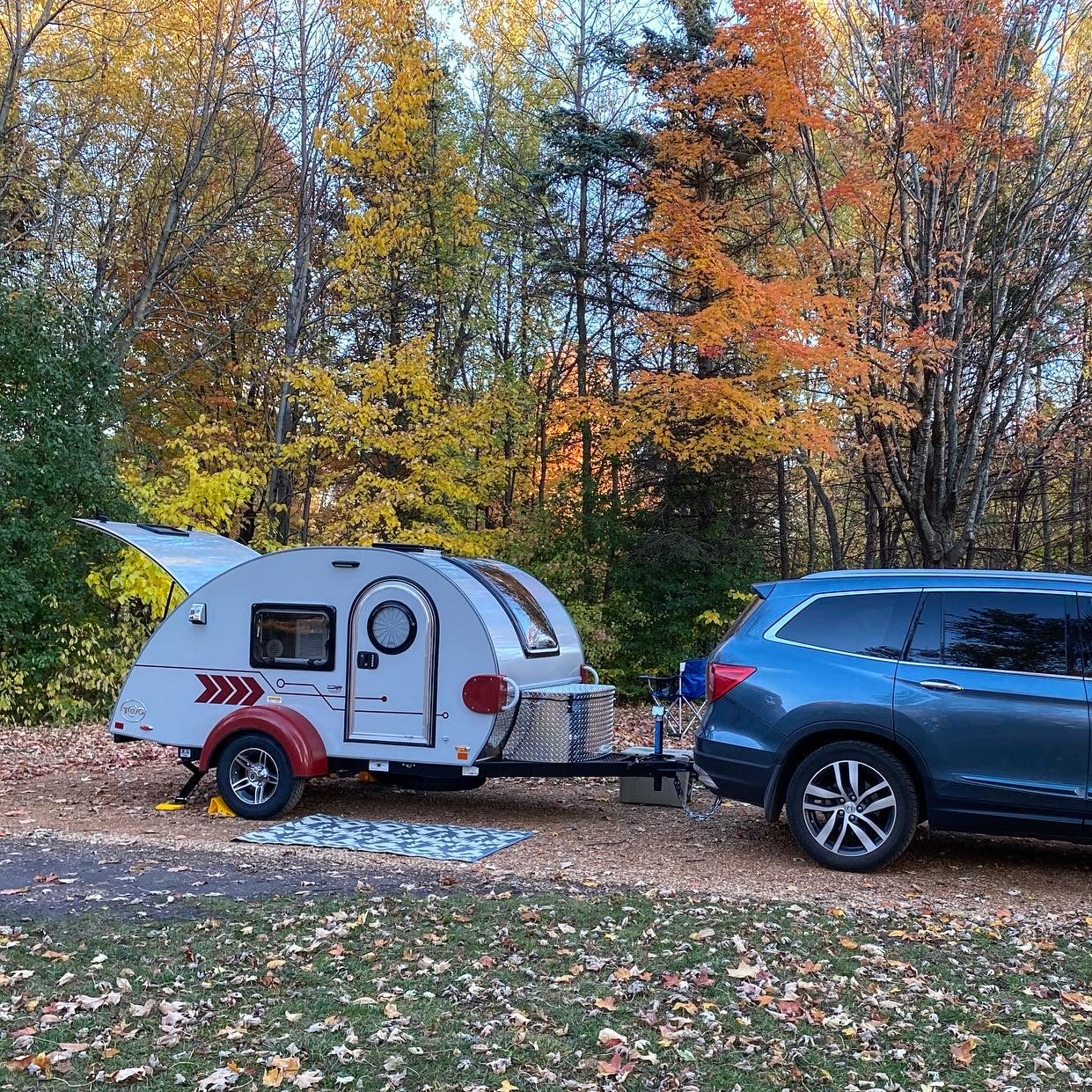 What is a Teardrop Trailer?
A Teardrop Trailer or Teardrop Camper is named after the teardrop shape of the camper. The camper is typically taller and rounded at the front, and tapers off to a point toward the back. There are many sizes of teardrop trailers – from trailers you can barely sit up in, to larger teardrops that you can stand up in. Several other styles of small campers are being grouped into the teardrop category, such as the "Squaredrop" Trailers with a square shape, and "Egg" style Trailers like the Scamp Camper.
Many talented people build their own teardrop trailer, either from a kit or from their own design. There are a lot of companies that will build a teardrop and allow you to configure many aspects of the build of the trailer.
Does a teardrop trailer interest you? Read on to find out more about camping in a teardrop.
What does a Teardrop Trailer have in it?
The most common style of Teardrop Trailer will have a bed, where you can sit or lay down, some small storage cabinets on the inside, and a kitchen galley that can be accessed in the back of the trailer by lifting up a hatch that covers the kitchen. Larger teardrop campers such as the Nucamp T@b 320 or T@b 400 are tall enough to stand up in, and may even have a kitchen and small bathroom on the inside of the trailer.
If you don't have a bathroom in your camper, you can camp at a campground with a bathhouse, set up your own portable bathroom or even carry a small portable toilet in your camper.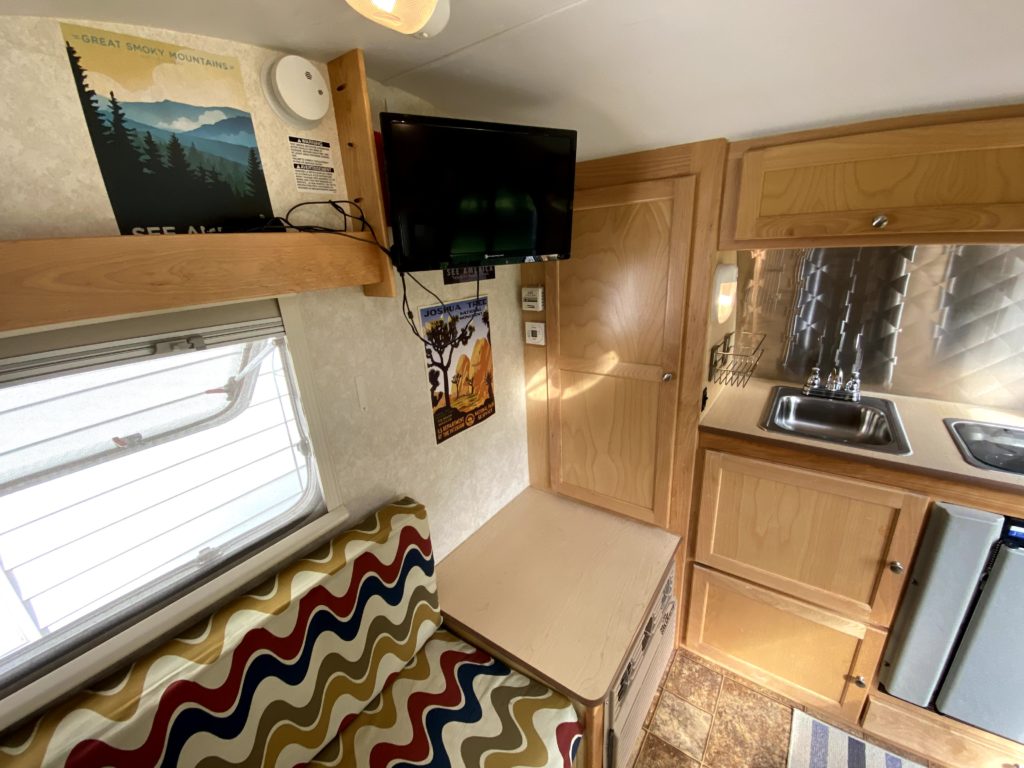 Are Teardrop Trailers Comfortable?
Most people start looking into teardrop trailers because they are tired of sleeping on the ground in a tent.
Teardrop trailer camping is the perfect combination of comfort, ease and simplicity. You can enjoy the great outdoors while sleeping in a nice warm bed, often with heat and air conditioning! A teardrop camper kitchen can have almost all of the amenities of home or can be as simple as a propane stove, cooler and jug of water. Teardrop camping can be as rustic or comfortable as you like – you get to choose.
When deciding on a teardrop trailer, you should make a list of which amenities you require to make your camping experience comfortable. This list will help you narrow down your must-haves before choosing a teardrop trailer.
Your wish list may include:
Air Conditioning (most trailers will include an overhead fan, which you need for ventilation)
Heat
Water Tank
Sink
Outside shower Hose
Battery System
Built in Solar System
Electrical System (hook up to campground power)
Interior and Exterior Lighting
Outlets AC, 12 volt, USB
Television and radio
Propane System
Stove
Refrigerator
Storage
Interior Bathroom and Kitchen for larger units
Awnings and side tents
Every manufacturer will have their own list of amenities and custom add-ons.
Can you Sleep in a Teardrop Trailer?
A comfortable sleeping place is a major benefit of a teardrop trailer. I call my camper my "bed on wheels". It offers a dry, warm place to sleep out of the elements, and while many people add mattress toppers and other sleep systems to their teardrop, I sleep like a baby without any extra padding. You have the choice of setting up your bed with sheets, pillows and a comforter just like at home, or you can throw in a sleeping bag and camp pillow.
Most teardrop trailers can sleep 2 adults (and a dog or two) comfortably. There are some models on the market that offer a "bunk bed" add on for a small child. Bed sizes range between full and king size depending on the model of trailer you buy.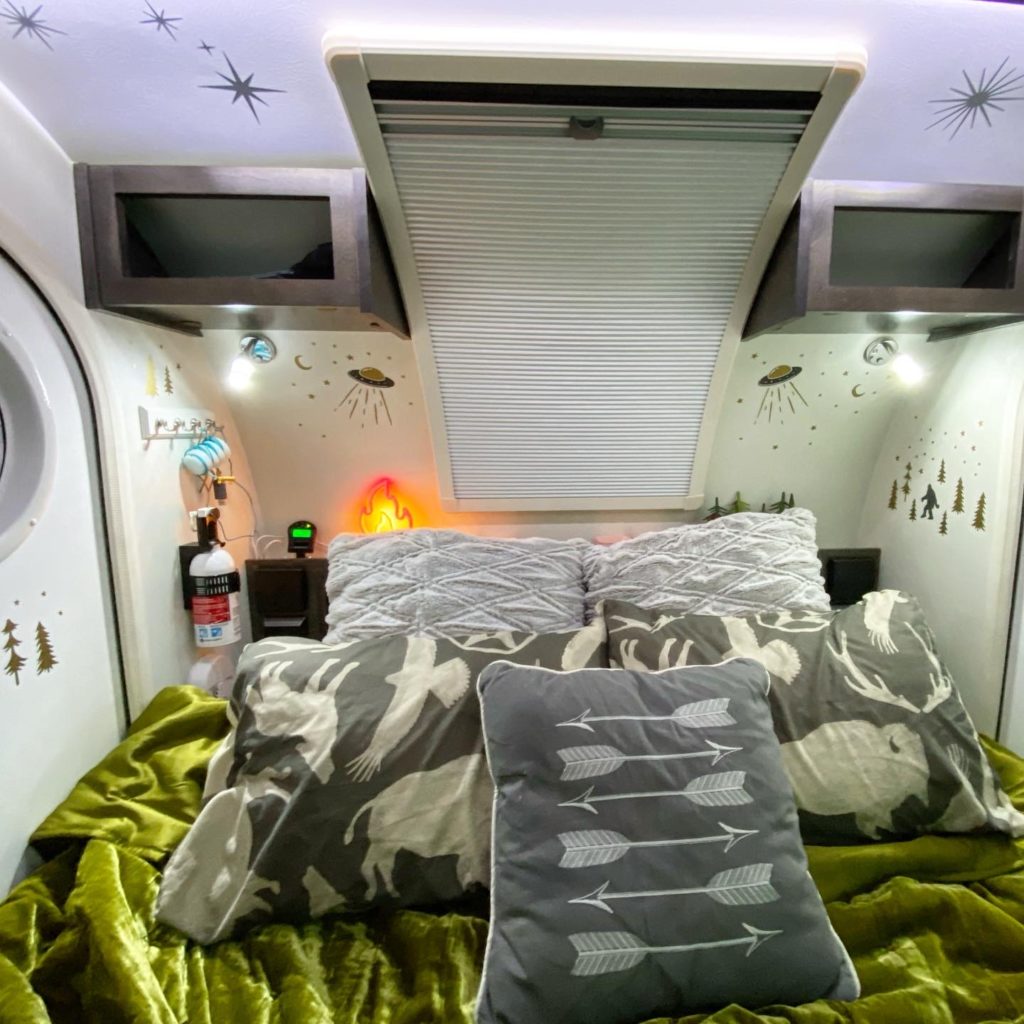 Is it worth it to buy a Teardrop Trailer?
Teardrop trailers can be quite expensive, especially if you want all the amenities such as a water system, heater, air conditioning and cook top. You do get what you pay for. The most popular brands of teardrop trailers are built with a high level of quality and craftsmanship, and can be customized to your specifications.
You can expect to pay from $18,000 – $30,000 for a new teardrop camper. If this is your first time buying a camper, you may consider buying a used Teardrop Trailer, many people sell their barely used campers online.
You can also find online groups on Facebook and Forums for most major teardrop brands. This will help you learn more about the camper before buying. Being in an online group will give you a sense of quality of the camper brand and how issues are handled, just keep in mind that you may see a higher percentage of negative posts online because owners are going to the group for help
What are the Negatives of Teardrop Trailers?
Teardrop Trailer Camping is a wonderful way to camp, but there are a few things you should consider before buying a teardrop.
If there is no bathroom in your camper, you will need to camp in a campground that has bathrooms, or you will need to set up your own portable camp bathroom.
If you have mobility issues, you will want to test the camper before buying, to make sure you can easily get in and out of the trailer. Unless you have a teardrop trailer that you can stand up in, you may need to get dressed laying down.
They are small campers, so if you have bad weather, you may be stuck in a very small space for the day. There are several tents for teardrop campers that will add to your living space, even during a rain storm. There are also awnings and side tents that can cover your galley or doorway and add protection from the sun, wind and rain.
Most of these issues are no different than tent camping. The goal of camping is to be outdoors, and the teardrop will give you a great place to sleep and cook in nature.
What do I need to start Camping in a Teardrop Trailer?
Teardrop trailers are quite easy to tow due to their small size, they can weigh anywhere from 800 lbs to about 3,000 lbs. If you have an SUV you should be able to find a teardrop that you can tow. Make sure you are aware of the towing and tongue weight capacity of your tow vehicle before buying a camper. You will need a tow hitch and harness on your vehicle. Read more about hooking up a teardrop camper here.
Another benefit of the teardrop is that you can store your gear right in the trailer, so when you are ready to hit the road, you can add your food and clothes and go!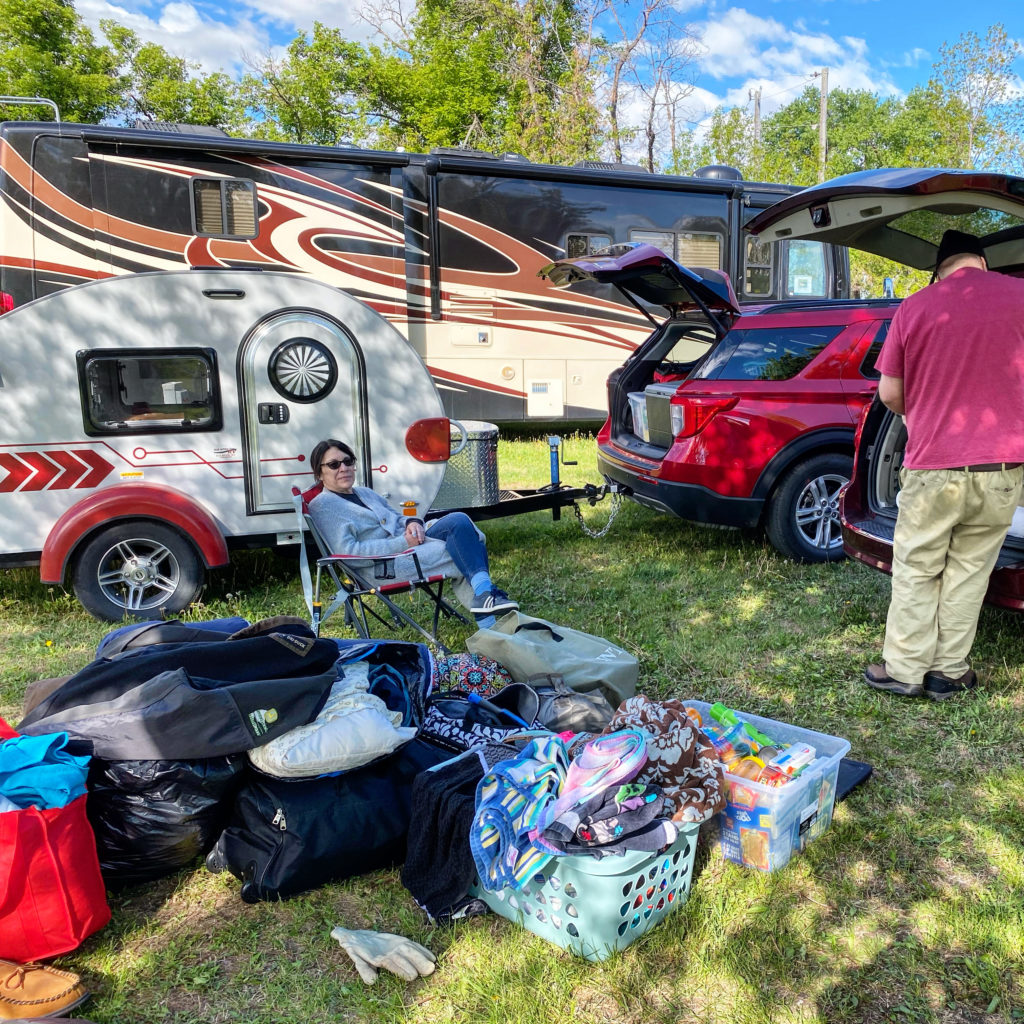 If you are new to teardrop trailer camping, we have put together a list of Teardrop Trailer Essentials for your new camper to help you get started. Our advice is to start out slow with the basics, and resist the urge to overbuy camping supplies. You can always add more along the way. Teardrops are small, so you will want your gear to be small and efficient and serve more than one purpose whenever possible. We have many tips and buying guides on this site with the best gear for teardrop campers.
You may also be interested in our Ultimate Guide to Teardrop Trailer Camping. We are here to help you enjoy your teardrop adventures!